Pasta alla "crudaiola" Gusto style
Loading…
Pasta alla "crudaiola" Gusto style is easy, quick, healthy, and surprisingly delicious. The fresh flavours of the uncooked greens and tomatoes are made vibrant by the zing of raw garlic and the tang of the Parmigiano cheese.
There are many versions of the "crudaiola" sauce, this one is Franco's variant.
Pasta alla crudaiola Gusto style
Ingredients for two people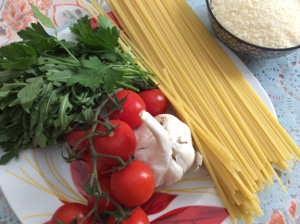 Pasta 200 g (linguine)
Cherry tomatoes 15 (approximately) or a ripe and large tomato
Extra virgin olive oil 4 tbsp
Garlic half clove
Salt and pepper
Grated Parmigiano 4 tablespoons (or Grana Padano or Pecorino cheese)
Rocket a small bunch
Parsley a small bunch
Preparation
Wash tomatoes, parsley, and rockets.
Bring the water to a boil.
In the meantime, cut the tomatoes into small pieces, chop the rocket and parsley, and put them together in a large bowl. Add the chopped garlic clove, just one tablespoon of parmesan, salt, pepper and oil.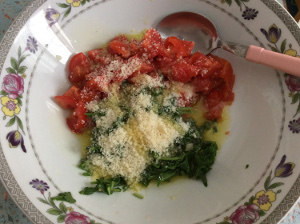 Mix carefully.
Now cook pasta in boiling water according to the cooking time indicated on the pasta package.
Put 1 teaspoon of oil and 2-3 tablespoons of the hot pasta water into a small saucepan, add the remaining Parmigiano cheese, and mix well.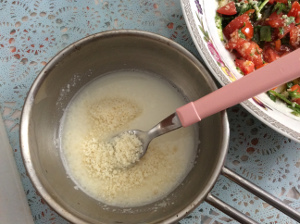 Drain the pasta, pour into the sauce-pan and mix gently.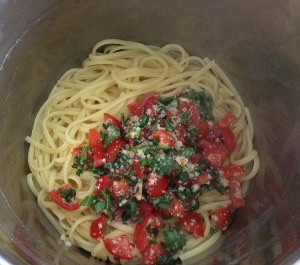 Then, pour it again into the same bowl you have used to prepare the sauce and spread the previously prepared Parmigiano cheese mixture on top.
Serve and eat immediately.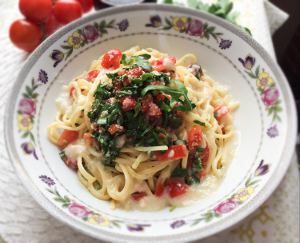 Tips
If you like chillies, you can add some to the vegetables, or use our Hot Chilli Peppers Spread. Instead of linguine you can use fettuccia, spaghetti, or other pasta you like.
Instead of parsley you can use fresh basil, chives, or other herbs as you like.