Pasta e fagioli with ricotta forte cheese sauce
Loading…
Pasta e fagioli is one of the great classics of Italian cuisine. This simple version becomes a beautiful first course, bursting with intense flavour thanks to the ricotta forte sauce. The potatoes give it an irresistible creaminess.
Ingredients
Serves 4
Cooked borlotti beans – drained about 250 gr. (1 can)
pasta 350 gr.
Ricotta forte cheese pasta sauce 1 jar
potatoes 2 if small (1 if large)
ground chillies 1 pinch (optional)
grated parmigiano or pecorino to taste (optional)
fresh parsley 1 sprig
extra virgin olive oil about 2 tablespoons
salt to taste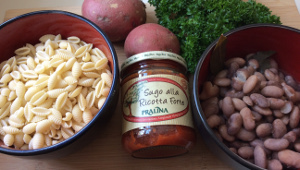 Equipment
1 non-stick pan, 1 chopping board, 1 knife, 1 medium sauce-pan, 1 drainer.
Preparation
If you are using dried beans, remember to soak them the night before preparing pasta and cook according to the instructions available here.
If you are using canned beans, proceed to the next step.
Peel potatoes, rinse, and dice into medium cubes, concasser cut (see details on our blog for the concasser cut).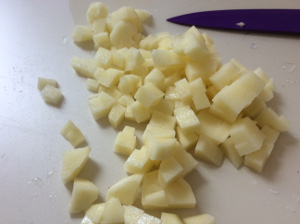 Bring a saucepan full of water to a boil, add salt, then add the potatoes.
Meanwhile, place a non-stick pan over medium-low heat, add the ricotta forte sauce, drained beans, half cup of warm water, and chillies (optional), and simmer for about 2/3 minutes.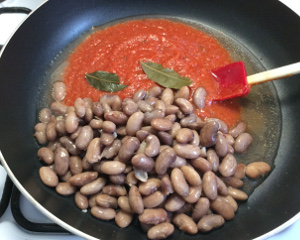 Wash and finely chop the parsley, then add to the sauce.
Add the pasta to the water with the cooking potatoes.
When the pasta is cooked, drain along with potatoes, setting aside 1 cup of the cooking water. Pour the pasta and potatoes directly into the pan with the ricotta and bean sauce. Add the reserved cooking water as needed to give the mixture the consistency of a very thick soup.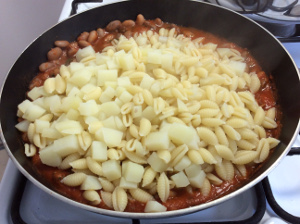 Mix and serve hot adding a drizzle of extra virgin olive oil and a generous shave of Parmigiano Reggiano (or aged Pecorino Romano).
https://cookwithgusto.com/online-dating-not-working-for-me/
Tips
You can use any short pasta shape you like. I have used the Sardinian "gnocchetti" because it can be eaten with a spoon like a soup. Sedanini, small shells, orecchiette, strozzapreti, or frucidd are all good alternatives. Another interesting option is to use lasagna sheets and coarsely break them with your hands, in order to obtain delicious maltagliati.
You can use either borlotti and cannellini beans. When you cook beans, you can use aromatic herbs as you like, but we recommend using bay leaves, even dry, to make the beans more digestible.
If you use dried beans, reserve the cooking broth and use it to cook the pasta instead of water. If you want to use canned beans, you can cook the pasta in water or in a light vegetable broth.
The potatoes makes the dish creamy. If you like a more liquid version, just add more broth or liquid when stirring the pasta in the pan.