Pasta is so much a part of Italian life. We prepare, cook and eat it as most Asians eat their rice – with propriety and utter respect. And just like Asians, our preparation of pasta varies from region to region. We are so fond of it that we have names for each of the hundreds of pasta shapes in our country.
Do you know why we have so many pasta names? It's because we take inspiration from the shapes we see in everyday life. Why do we have so many pasta shapes? It's because specific shapes and textures go best with specific sauces.
Here are some pasta names and shapes:
Orecchiette. This is one of the pasta shapes that I love, not only because it comes from Puglia, my region, but also because of its unique texture – soft in the middle and kind of chewy at the edges. If you take a closer look, you'll find that it looks like a little ear! That's actually where it got its name because in our language, orecchiette means exactly that – little ear. It's the best pasta to use for Cime di rapa, tomato and vegetable sauces.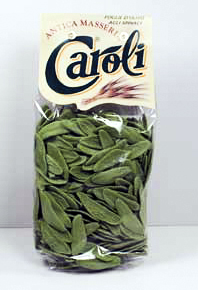 Spinach olive leaves. What can be healthier and more attractive than homemade pasta that's made of durum wheat, blended with real spinach and shaped like an olive leaf? It's best for tomato-based sauces, either canned or fresh, basil and "Cacioricotta" cheese. Yummy!
Strascinate. This is a larger and more open version of orecchiette. It is typically made in Southern Italy, and as such, is egg-free. It's just semolina and water. This looks like empty pea pods – a little hollow on the inside but smooth on the outside. It's because the dough is merely dragged (strascinati) with the fingers onto a wooden board.
Trofie. This traditional Ligurian pasta is made of thick, twisted solid strands that are decidedly chewy. This pasta is traditionally served with pesto; its twisted shape allows the pesto to stick better. The name is believed to have come from the Greek word "trophe" which means "nourishment".
famous matchmaker This is a pasta shape that has a very intriguing name. Legend has it that when priests first tasted it, they found this pasta so good that they ate too fast and too much that they almost choked to death! That's why it's called priest strangler!
Fusilli. Here's another intriguing pasta name as it can have shapes that resemble the interior barrel of a gun, a triple helix or even a corkscrew. It can have two or three spiral edges. It's one of the best pasta shapes if you need something that holds sauces better. It has great texture too.
Penne. How about a pen for lunch? But kidding aside, this is shaped like the quill or fountain pen that our forefathers used a long, long time ago.
Farfalle. Maybe this is where the English phrase "Butterflies in your stomach" comes from, because it is shaped like a butterfly, but it certainly does not cause you to be nervous. It's the perfect pasta to use for light sauces.
Spaghetti. This is the pasta that needs no further introduction. It's world-famous and well-loved by people of all ages. But did you know that its name comes from the Italian word spaghetto which means little twines?
Fettucce. Do you ever wonder why this pasta has trimmed edges? It's because it's shaped like a ribbon. The smaller ribbons, of course, are called fettuccine in Italy and elsewhere.
There are many, many more pasta names and shapes out there. If you have something to add to this list, please feel free to add it to the comments box so that we can share your knowledge with our other subscribers.