Pasta with pecorino cheese, mint, and chillies.
Loading…
Pasta with pecorino cheese, mint, and chillies is a delicate first course and it is prepared with fresh ingredients by following a few simple steps.
The pecorino and mint produce a surprisingly delicious combination, and dish is handsome as well.
Ingredients for 4 people
Fusilli pasta 350 g
Pecorino cheese 150 g
Parsley 225 g
Mint about 5 leaves
Small onion 1 (or half)
Extra virgin olive oil 4 tbsp
White pepper at your taste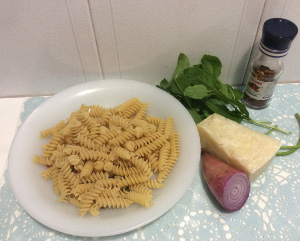 Equipment
Non-stick frying pan, chopping board, knife, large sauce-pan.
Preparation
Bring water to a boil for the pasta.
Meanwhile, finely chop the onion.
Heat the extra virgin olive oil and cook onion with the chillies in a pan that is large enough to sauté the pasta. Cook for a few minutes, until onions become translucent.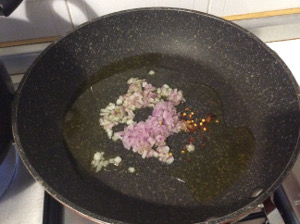 n
Grate the pecorino with a fine-grater.
Chop the mint and parsley by using a knife.
Cook the pasta al dente and set aside a cup of cooking water before draining it.
Add the pasta, the pecorino cheese, a little cooking water into the pan containing onion and chillies, then mix gently over medium heat until the ingredients are mixed well.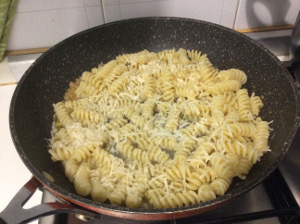 Add the chopped aromatic herbs, and a bit of pepper and salt to taste.
Decorate with a few mint leaves, and serve immediately.
Enjoy your meal!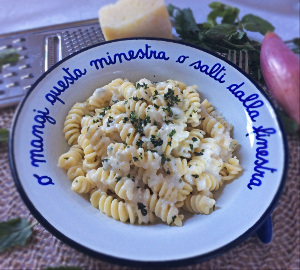 Tips.
If you don't have fusilli, you can replace them with other short pasta shapes. It is best to use bronze die pasta, because this type of extruder makes the surface rough and ideal for sauces.