Pasta with salmon, olives, and spinach
Loading…
An easy first-course recipe features an unusual but surprisingly delicious combination of ingredients.
It is a tasty and light dish that can be prepared in just a few minutes.
Pasta with salmon, olives, and spinach
Serves 3
Ingredients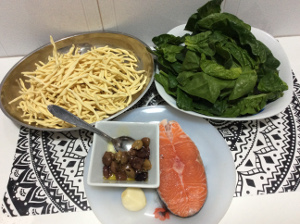 Pasta strozzapreti 240 gr. (or other pasta shape as you like).
Fresh Salmon 125 gr.
Butter 10 gr.
Black Leccina olives 30 gr.
Spinach 1 bunch (or baby spinach)
A pinch of salt and pepper
Garlic 1 clove
Extra virgin olive oil 1 tablespoon
Equipment
Non-stick frying pan, chopping board, knife, large sauce-pan.
Preparation
Bring the water to a boil for the pasta.
While pasta is cooking, heat a non-stick pan, add the extra virgin olive oil and the whole clove of garlic and gently cook for about 30 seconds.
Cut the salmon into small pieces, put into the pan and brown with a pinch of salt and pepper for about 2 minutes.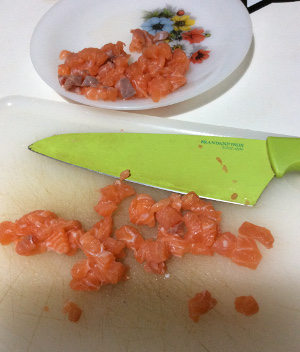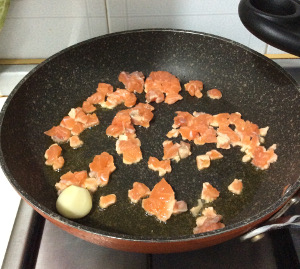 Cut the spinach into strips, add them to the salmon, cook until they are wilted, then add the sliced olives and turn the heat off. Remove garlic.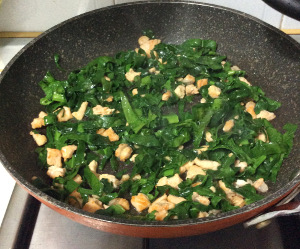 Drain the pasta when it is al dente (set aside a cup of the cooking water), then pour into the pan with the salmon, spinach, olives and the knob of butter.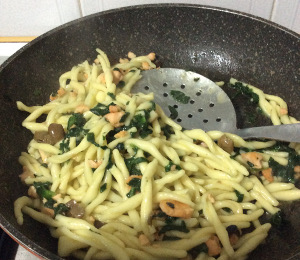 Cook for about two minutes, adding a few tablespoons of the reserved cooking water to help the butter and sauce coat the pasta.
Stir, sauté over medium heat for a few seconds then serve immediately.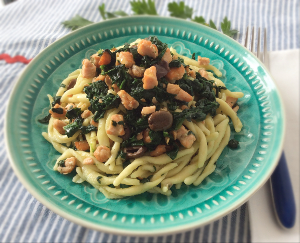 Tips.
You can add some chillies in case you like spicy food; as an alternative, you can add a teaspoon of i hook up
https://cookwithgusto.com/free-usa-dating-sites/ are perfect for this recipe, because their flavour enhances the taste of spinach.
If you like rocket, you can use it instead of spinach and just add it without cooking it.