Pasta with salmon and sundried tomato sauce
Loading…
This is a quick recipe – you prepare the sauce while the pasta is cooking so it is ready in just 15 minutes.  It is delicious thanks to the contrast between the fresh salmon and tangy sundried tomatoes, and beautiful thanks to its bright red and pink colours.
Recipe for 2 people.
Ingredients
linguine or other pasta 200 gr
garlic clove 1
extra virgin olive oil 2 tbsp
dry white wine ½ glass
sundried tomatoes 3
tomato pulp 150 gr
fresh salmon 250 gr (or frozen)
salt and pepper to taste
parsley a handful of leaves
chillies (optional)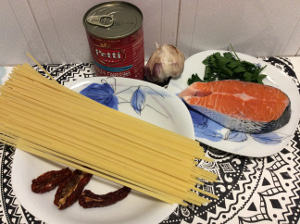 Equipment
Non-stick frying pan, chopping board, knife, large sauce-pan, small sauce-pan.
Preparation
Heat the oil in a medium saucepan.  Add the whole clove of garlic and cook 1 minute.  Add the tomato pulp and cook for about 5 minutes.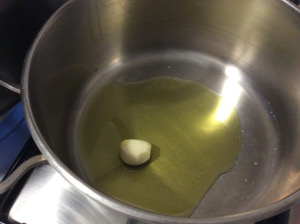 Meanwhile bring water to a boil for the pasta.
Cut the dried tomatoes into thin strips and chop the parsley.
Cut the salmon into cubes, heat a non-stick pan, add 1 tablespoon of oil, and cook salmon for few minutes, just until it loses its raw colour.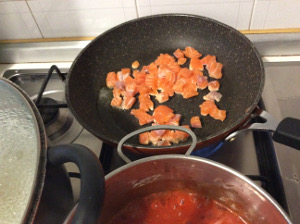 Add the white wine, let it evaporate, then add the tomato fillets, chillies, and parsley.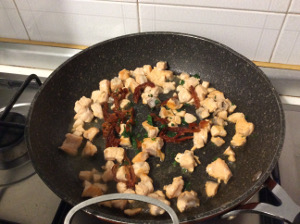 Add the tomato sauce you have prepared previously, season with salt and pepper, cook for another 5 minutes then turn off.
Cook the pasta according to the instructions on the package, set aside a cup of cooking water, drain, and pour into the salmon and tomato sauce.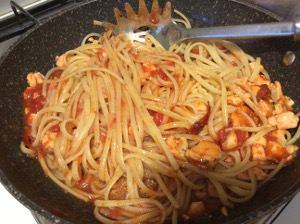 Mix well, adding some of the cooking water if needed.  Add a drizzle of extra virgin olive oil. Garnish with parsley.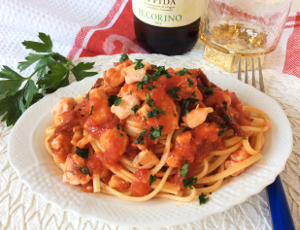 Tips
Instead of linguine you can use other long pasta, such as spaghetti, fettucce or noodles. You can replace tomato pulp with the same amount of cherry tomatoes or other ripe tomatoes.