Pasta with squash, beans, and sundried tomatoes
Loading…
An original recipe, rich in vegetables, tasty and simple to prepare.
Pasta with squash, beans and sundried tomatoes is a tasty and inviting first course, perfect for the cold season. The addition of sage and bay leaves help make the beans more digestible.
This recipe is #vegan #vegetarian #lactosefree
Pasta with squash, beans, and sundried tomatoes
Ingredients for 4 people:
small-shaped pasta 200 gr. (we used "tubetti" but other types such as elbow macaroni are good)
pre-cooked borlotti beans 350 gr. (approximately one can, after draining)
pre-cleaned squash 250 gr.
small potatoes 2 (or 1 large)
sundried tomatoes in oil 3
garlic 1 clove
a sprig of fresh parsley
bay leaf 1
sage leaf 1
rosemary optional
chili pepper optional
extra virgin olive oil (4 teaspoons)
vegetable broth 1 liter (also prepared with the stock cube)
salt and pepper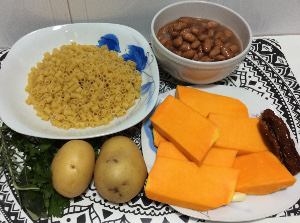 Equipment
Chopping board, knife, large sauce-pan, small saucepan, ladle.
Preparation
In a large saucepan fry the whole garlic with the extra virgin olive oil, add the bay leaf and the sage leaf (and the chilli pepper if you are using it). Remove the garlic.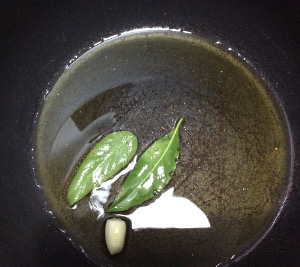 Clean, peel and cut squash and potatoes into small dices.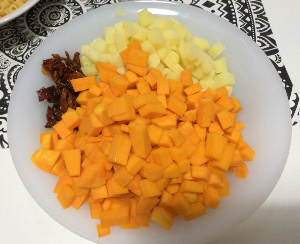 Add the diced squash and potatoes, and let them cook on a low heat for about 10 minutes, sprinkling with a couple of ladles of hot vegetable stock (or with hot water if you don't have the stock).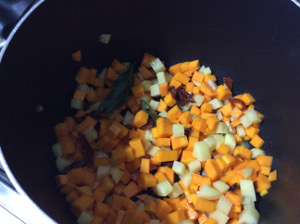 Meanwhile, wash and chop the parsley.
When the squash and potatoes are soft, crush about half of them in the pan with a fork.

Add beans, sundried tomatoes cut into thin strips, and about half the chopped parsley. Cook for a few minutes and season with salt and grounded pepper.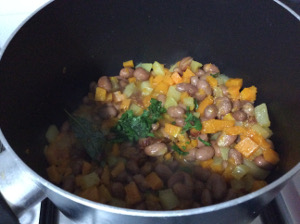 Pour the pasta directly into the saucepan and cover with the remaining vegetable stock so that the liquid barely covers all of the pasta. Cover with a lid and cook according to the cooking time suggested on the pasta package. Stir often and add liquid if it becomes too dry.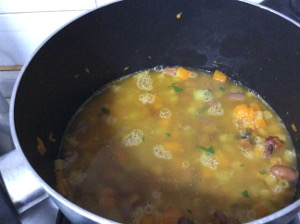 Stir to mix all the ingredients well.
Sprinkle with chopped parsley, a drizzle of extra virgin olive oil, and serve!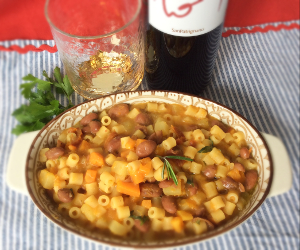 Tips
If you use dried beans you will have to soak them in cold water for about 8 hours or over-night. Then rinse, pour in a pot with cold water and cook them for about 1 hour and a half (or for less if you use a pressure cooker).
You can use either borlotti and cannellini beans. If you are not a vegetarian, you can add diced bacon or strips of prosciutto to the sautéed oil, garlic, bay leaves and sage. You can replace the aromatic herbs with others as you like, but we recommend the use of bay leaves, even dry, to make the beans more digestible.