Pasta with sweet pepper sauce, fresh basil leaves, and pine nuts
Loading…
This is one of my "staples" because it has a pleasant and delicate flavour. With just a few ingredients and the help of a delicious sauce – our Sweet Pepper Spread (Crema di Peperoni)– we create a beautiful dish.
Ingredients for 2 people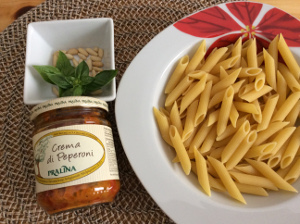 pasta 200 gr (we use penne but you can use any pasta shape you prefer)
extra virgin olive oil 2 tbsp
Sweet Pepper Spread 1 jar (200g Glass Jar)
fresh basil 10 leaves
pine nuts 1 tablespoon
salt and pepper to taste
grated Pecorino cheese (optional)
Equipment
1 medium saucepan, 1 non-stick pan, 1 blender
Preparation
Bring the water to a boil, then add salt and pasta.
In the meantime, pour the Sweet Pepper Spread into the blender and quickly mix.
In a non-stick pan, heat the oil and add the pine nuts, mix until they become golden-brown, then add the basil leaves (tear them into smaller pieces by hand), and the Sweet Pepper Spread. Heat at low temperature and turn the heat off.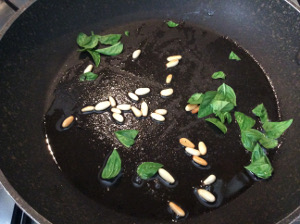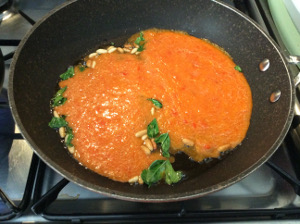 When the pasta is cooked, set aside a cup of cooking water and pour it into the pan with Sweet Pepper Cream, basil, and pine nuts. Quickly mix and add a few teaspoons of cooking water if it is too dry.
https://cookwithgusto.com/old-ladies-and-young-men/
Serve immediately after topping with a few fresh basil leaves and, if you want, some grated pecorino cheese.
https://cookwithgusto.com/canada-dating-site/
Tips
You can use the pesto as it is, rather than blending it first. However, the blending produces a sauce with a wonderful, velvety consistency. If you want a creamier effect, you can add a few tablespoons of double cream or cream cheese before blending and 2/3 of a jar of the Sweet Pepper Spread. After opening, you can store the sauce in the refrigerator for up to one week covered with a thin drizzle of olive oil.