Pasta with Vegetable Pesto
Loading…
Pasta with vegetable pesto is a light, tasty and perfect first course for everyone, especially those following a vegetarian or vegan diet.
Ingredients for 4 people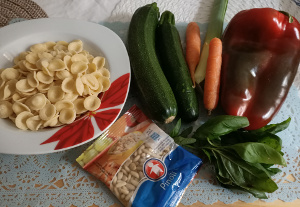 Pasta 320 gr
Courgettes 2
Carrots 2 small (or 1 if large)
About half a leek
Red pepper ½
Basil 10 leaves
Pine nuts 10 gr
Extra virgin olive oil 2 tbsp
Salt to taste
Equipment
1 baking sheet, baking paper, 1 knife, 1 cutting board, 1 plate, 1 medium sauce-pan.
Preparation
Thoroughly wash all the vegetables, remove ends from courgettes and carrots, peel carrots, remove seeds and internal filaments from the pepper, peel the onion, then cut everything rather coarsely.
Place the chopped vegetables on a baking sheet lined with parchment paper, season with a little oil and cook in the oven at 220 ° C for 20 minutes. Do not add salt, you will add it once cooked.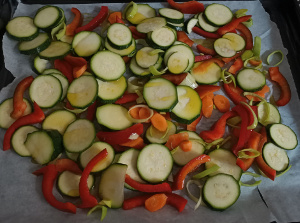 Remove the vegetables from the oven and let them cool before proceeding with the preparation. Set aside a few pieces of vegetables for decoration.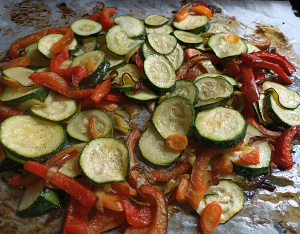 After cooling, transfer the vegetables into a food processor or blender. Add the basil, pine nuts, a pinch of salt and a drizzle of oil, and blend until a creamy and homogeneous consistency is obtained.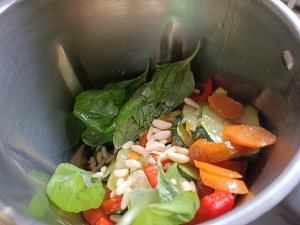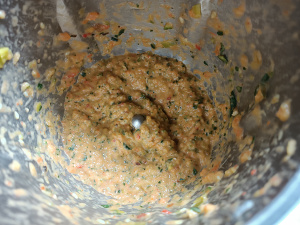 Cook the pasta in plenty of salted water for the time indicated on the package. Once ready, drain and season with the vegetable pesto, possibly adding a few spoons of the pasta cooking water to adjust the consistency.
Serve the pasta hot, adding some ground black pepper and (optional) parmigiano to taste.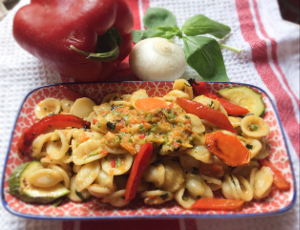 Tips.
You can use other pasta shapes as you like. You can use this pesto as a spread for crostini or tarallini, and if you pair it with cheese or cereals, then it becomes a main course.