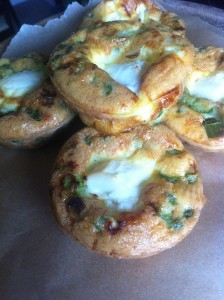 I'd like to share with you a simple frittata recipe that I've learned at a cooking class of a friend of mine, Dee Daly. In Italian, "fare una frittata" means to make a mess.
In fact, the fun part of making an egg frittata is the freedom to make it your own by adding ingredients or spices to it. It always has a nice result.
What I did like the most about this recipe is the presence of lots of greens like peas and asparagus and the twist of mint that makes it always fresh.  Try it and let me know how it came out.
Dee is a nutritionist and a chef.  She translates nutrition into easy-to-take-away principles, achievable by all. Dee completed a 3 year diploma in Nutritional Therapy and received her culinary training at Ballymaloe Cookery school. If you like to know more about her classes that I highly recommend, visit her Facebook page 🙂
Here's your Pea, mint and ricotta frittata
Ingredients
250g fresh or frozen peas/ 6 asparagus, small to medium spears
2 spring onions, finely chopped
2 tbsp chopped mint
6-8 eggs
1 tbsp grated Parmesan
50-75g young goat's cheese/feta/ricotta
Optional extra – Sliced Smoked salmon/Parma ham – Cut into long strips for a large frittata or smaller pieces for mini muffin size
Method
Preheat the oven to 200°C/180°C fan/gas 6.
Cook peas/asparagus spears in simmering, salted water — 2 minutes for frozen, 4 minutes for fresh — until tender. Drain, refresh in cold water and drain again.
Beat eggs lightly with a fork in a bowl. Add peas, spring onion, Parmesan and mint into a bowl and stir together well. Season to taste with salt and freshly ground black pepper.
Pour into greased ovenproof dish or muffin tray.
Optional step – drape Parma ham or smoked salmon on top of frittata(s).
Crumble the cheese of your choice (goats/feta/ricotta) over the top.
Bake frittatas for 20-25 minutes until set. 15 minutes for muffin size.
Leave to cool to room temperature or colder before cutting into slices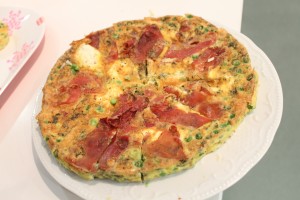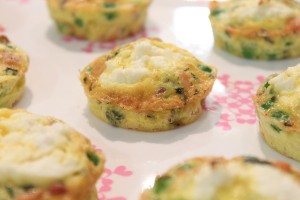 I hope that you like it as much I did, please leave a comment or two below, thanks.