Penne al Salmone (Penne pasta with Salmon)
Loading…
Have you ever wondered which are the favourite recipes among those that Taste With Gusto has published over the years? Number one is "penne with salmon." Every day at least 10 people visit our blog to read this "oldy but goldy," and it appears on the first page if you run a Google search on the name.
Today we propose it again, together with some tips and variations.
Penne al Salmone (Penne pasta with Salmon)
Ingredients for 4 people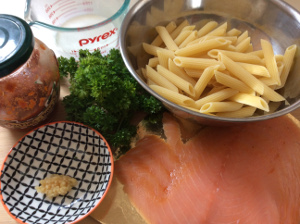 Penne or Farfalle pasta shapes 400 gr
smoked salmon (cut into strips) 250 gr
fresh cream 200 ml
extra virgin olive oil (EVOO) 30 ml
garlic gloves 2
sundried tomato paté or passata 1 tbsp
chopped fresh parsley a small bunch
salt and pepper to taste
Equipment
1 non-stick pan, 1 chopping board, 1 knife, 1 medium sauce-pan, 1 drainer.
Preparation
Bring the water to a boil, then add 30 gr of coarse sea salt, and pasta.
Stir it and meanwhile prepare the sauce (it will be ready in 10 minutes).
In a non-stick pan, heat the oil and add the crushed garlic; mix until garlic becomes golden-brown (roughly 2 min), and then discard it. Cut salmon into thin strips and add to the pan, stir for a minute or two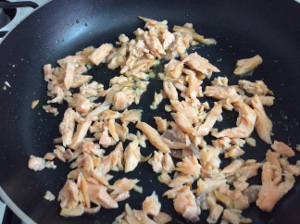 then add the fresh cream.
Wash and finely chop the parsley and add it to the sauce (set some aside for garnish at the end), then add the sundried tomato paté (or passata) and a bit of freshly ground black pepper.
Cover and simmer over low heat for about 3-4 minutes. The sauce will thicken and be ready as soon as the pasta is cooked.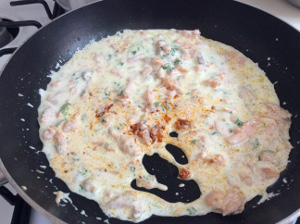 Check the pasta, because it should be almost cooked. When it is al dente drain it well, reserving a cup of the cooking water.
Pour the pasta into the salmon and cream sauce and mix together for 1 min, adding a bit of the reserved water if the sauce is too thick.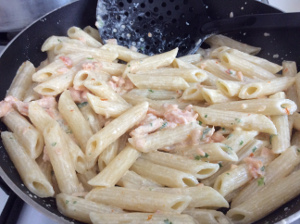 Serve on a large plate, and finish the dish with a drizzle of extra virgin olive oil and the remaining chopped parsley.
See how quick and easy it is to cook Penne al Salmone?
Enjoy with a nice glass of dry white wine and…Buon Appetito!
https://cookwithgusto.com/dating-a-passive-beta-male/
Tips
Many varieties of starchy pasta will absorb liquids and the sauce. To obtain the right consistency, make sure to reserve some of the pasta water. After the pasta is mixed with the sauce and you realize that it seems too thick, you can add some of the reserved water. Many types of https://cookwithgusto.com/hispanic-dating-app/ pair well with this sauce; for example you can use whole wheat pasta, or freshly made tagliolini, or linguine. If you are in a hurry, you can use small pasta shapes such as pennette or sedanini.
You can use smoked salmon or use half fresh (or frozen) salmon and half-smoked salmon. Instead of parsley, you can use chives, or dill, fennel, or pink pepper berries.
Before adding the cream, you can quickly cook the salmon with 1-2 tablespoons of still dry white wine, whiskey, cognac, or even vodka.
In this version we have used fresh cream but you can prepare penne only with salmon, leaving out the cream.
How to sauté salmon penne: shallot, garlic or onion?
I have used garlic, but the sauté for penne with salmon can vary to your taste. Just keep in mind the following classic rules. Do not overcook garlic otherwise the taste becomes bitter; on the other hand, when raw it retains a strong and pungent taste. In the case of penne with salmon, you can also cook the whole cloves over low heat and remove once they have left their aroma in the oil. If you use onions for recipes you must cook them a bit longer. For penne with salmon we recommend using white onions for the sauté.