Penne alla Puttanesca is a very tasty and easy recipe. It is a perfect dish to prepare when you don't have a lot of time. And, it is always appreciated by everybody.
This recipe is mainly used in Calabria and Lazio in Italy. The origin of Penne alla Puttanesca is still not clear. Some people say that it appeared for the first time in the history of Naples at the beginning of the 20th  century, and that it was served to the clients in brothels. Another story, similar maybe that I heard in Rome, tells that the prostitute, "Puttana" in Italian, when back from "work" had still to prepare dinner for the husband and because this was very quick and filling dish was their quick fix 🙂
Another source says that it was invented by  the architect Sandro Petti in his "Rancio Fellone" restaurant , in Ischia. He actually said in an interview that he invented this dish when one late night some friends visited him at the restaurant. But the chef was gone and there wasn't much to cook in the kitchen, so he came out with this very simple recipe.
Now, let's see the steps to prepare a good Penne alla Puttanesca!
How to Cook Penne alla Puttanesca
INGREDIENTS
-400g of penne
-500g of fresh vine tomatoes or cherry tomatoes
-10 small sardines
-3 tablespoons of capers
-150g of black olives
-2 chillies
-6 tablespoons extra virgin olive oil
-2 garlic cloves
-fresh parsley
– salt and black pepper
Fill a pot with water and wait for it to boil. Meanwhile, put 6 tablespoons  of oil in a pan and heat it. Cut the sardines in small pieces and when the oil is hot, add garlic, sardines and chillies. Let them fry for 3 minutes, stirring often.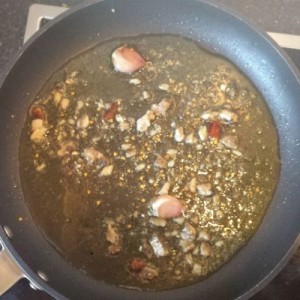 When the water is boiling, add 4 teaspoons of salt and drop in the pasta. Boil for 12 minutes, stirring often.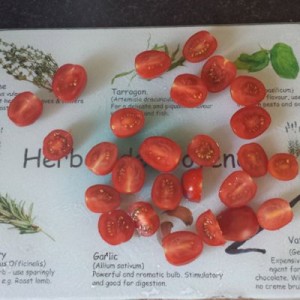 Cut the tomatoes in halves, or in four parts if big. Add with capers to the pot, while turning to a medium heat. Sprinkle with salt and let cook for another 5 minutes.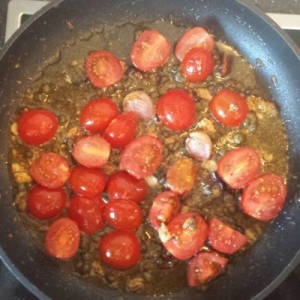 Cut olives and get rid of the pits. Add them to the other ingredients in the pan and stir.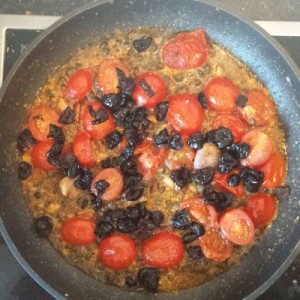 Drain the pasta and save a small amount of water. Turn off the heat under the pan and mix the penne with the contents of the pan. Add a bit of boiling water if it is too dry. Sprinkle with fresh parsley and black pepper and serve.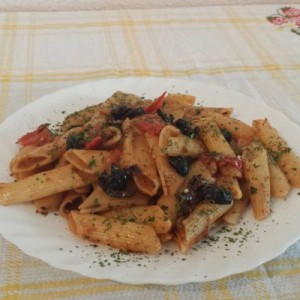 Buon appetito!
Tips:
-Serve with Italian red wine.
-If you can't find fresh tomatoes, you can use tomato passata
– If you or your guests are vegetarian, you can also prepare this recipe without sardines; just add some more salt!
– If you don't have time to prepare this dish, don't panic! You can always buy our Puttanesca Sauce, prepared following the original recipe and with the best ingredients directly from Italy!