Rainbow trout fillets with lemon and gin
Loading…
Rainbow trout fillets with lemon and gin are delicious and easy to prepare as a second course. The fillets are marinated in oil and lemon juice for about two hours, then sautéed in a pan for just a few minutes and flamed with gin. The result is a dish with a soft consistency and an aromatic flavour.
Ingredients
Serves 4
Rainbow trout fillets 900 gr.
extra virgin olive oil 6 tbsp
organic lemons 3
fresh parsley 1 sprig
butter a nut (about 2 tablespoon)
gin 1 shot
white wheat flour 3 tbsp
salt and white pepper to taste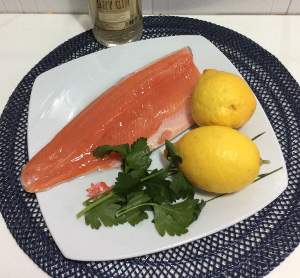 Equipment
Chopping board, knife, non-stick pan, 1 tablespoon, 1 small bowl, 1 large bowl.
Preparation
Rinse the fillets under running water, check that all the fishbones have been removed, and arrange them lined up on the bottom of a bowl.
In a small bowl emulsify the EVOO with the lemon juice, then mix in the chopped parsley and salt.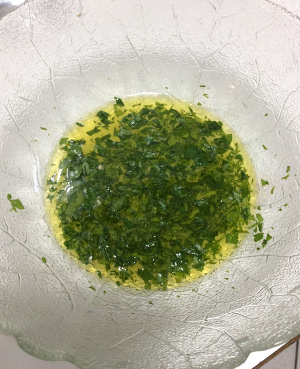 Pour the marinade over the fillets, cover with plastic wrap and let them marinate for about 2 hours.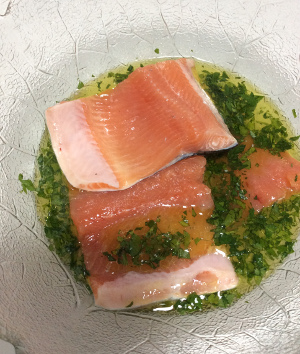 Put the flour on a plate and quickly coat the fillets – only on the side without skin.
Melt a knob of butter in a non-stick pan. Place trout fillets in the pan, cook over high heat for 3-4 minutes on each side, turning them gently just once.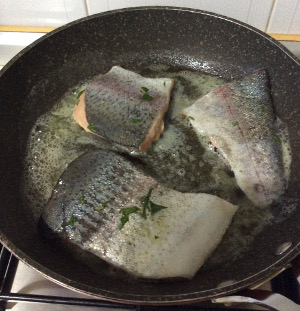 Pour in the gin, flame, sprinkle with a mince of pepper and parsley.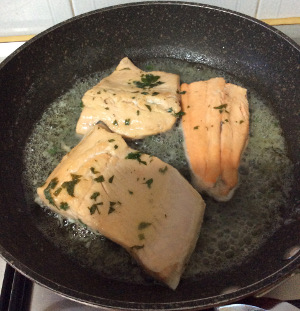 Immediately serve the salmon trout fillets with the sauce from the pan and lemon on the side.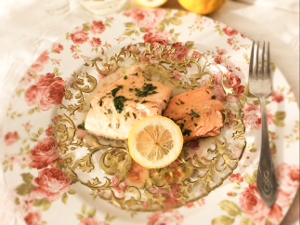 Tips
You can use other fish as you like, such as cod and salmon fillets. If you are in a hurry, you can marinate fish for a shorter time. Or if you are planning ahead and you want to marinate it for example before going to work, you can prepare it early, marinate the fish in the fridge, and cook at your convenience.
We paired this recipe with a fresh salad made with an orange, avocados, pumpkin seeds, balsamic vinegar, and man looking for men.