Roast braised in white wine
Loading…

Nothing says "holiday dinner" like a juicy, tender, and aromatic roast.
This week's recipe is a classic Italian roast invented by Anna Moroni. Born in Rome, she was for many years known for her frequent appearances as a chef on national television.
The recipe is simple to prepare, requiring only a few ingredients. The only crucial step is to use high-quality ingredients. For example, the wine should be crisp and dry, not too fruity (e.g. Pinot Grigio, Trebbiano, Sauvignon).
It is also good to serve the same variety of wine that you use in the roast.
You can cook this roast a day in advance and store it in the fridge (be sure to keep it in the cooking juice). Then, just slice and reheat the meat, reduce the sauce, and serve.
Ingredients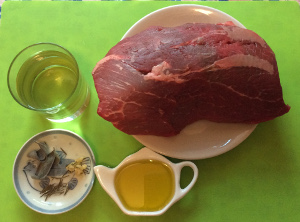 Beef tenderloin roast (or pork loin or veal) 800 gm.
Garlic 1 clove
Salt & pepper
Sage 3 leaves
White wine 2 cups
Extra virgin olive oil 2 tablespoons
Broth  2 cups
(can be beef, chicken or vegetable broth for a lighter version)
Method
Season the meat with salt.
Heat the oil in a saucepan a bit larger than the roast.
Sear turning it until brown on all sides, about 10 minutes in total.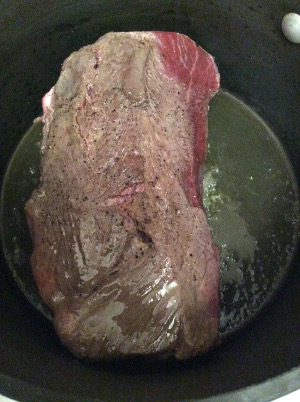 Add the garlic (you can chop it or put in the whole clove), white wine, sage, and pepper.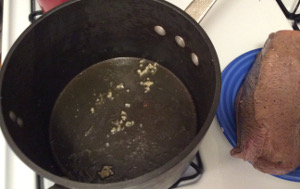 Cook the roast, covered for at least 1 hour, adding broth if needed.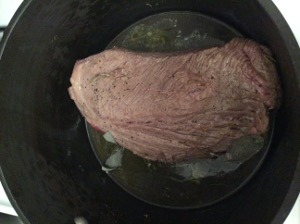 Generally, it takes 2 hours to get a perfect and tender roast. Test the cooking by pressing one finger into the meat. If it leaves a fingerprint, the roast is ready.
Rest the roast, slice, and transfer slices to a platter.
For the sauce: strain the cooking liquid and reduce at medium-high heat until it has a golden colour.
Serve the roast with sauce and pair with a green vegetable (e.g. broccoli, peas, green beans) and potatoes.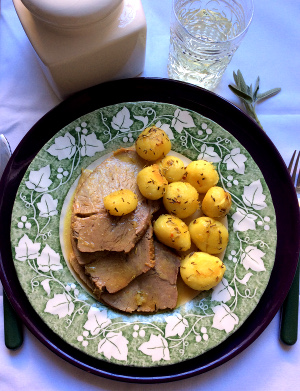 Tips.
Cooking times depend on the type of meat you are using. This recipe works well even with tougher cuts of meat such as shoulder. Just increase the cooking time and add stock.
If cooked properly, the meat will be so tender that you can cut it with a fork.