Roasted peppers salad with rocket and balsamic vinegar
Loading…
The Roasted peppers salad with rocket and balsamic vinegar has a fresh flavor that you will love from the first taste; you will want to make it over and over and try variations. It is a last-minute recipe made extra special with a few drops of IGP Gold Balsamic Vinegar of Modena. Et voila!
Ingredients for 2 people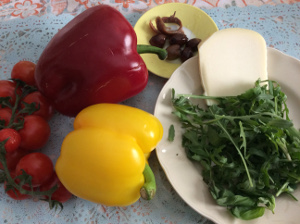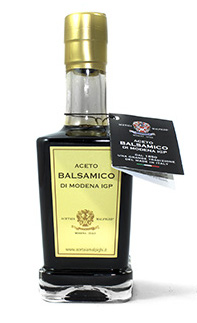 Red peppers 1
Yellow peppers 1
Cherry tomatoes about 10 (or 1 large ripe tomato)
Rocket 1 bunch
Basil a few leaves
Pecorino or other seasoned cheeses (ripe cheddar is fine) about 30 grams
Salt and black pepper
Extra virgin olive oil 2 tbsp
Balsamic vinegar of Modena IGP (or tasty) 2 tbsp
Pitted black olives 4 or 5
Anchovies 1 (optional)
Equipment
1 baking pan, tinfoil or lid, 1 chopping board, 1 bowl, 1 knife.
Preparation
First, prepare the roasted peppers: Turn on the oven to 190°. Wash and dry the peppers, and place them in an oven pan, seasoning them with oil and a little salt.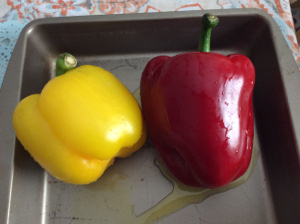 Cook the seasoned peppers for about 25 minutes or at least until the surface is a little toasted.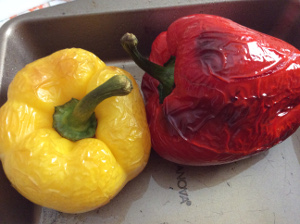 When the peppers are cooked, cover with tinfoil or a lid that seals them well and allow at least 15 minutes of rest (this step makes it easy to remove the peppers' skin).
https://cookwithgusto.com/tlc-the-single-life/
Finally peel the peppers, then cut them into thin strips.
Prepare the salad by combining all the ingredients together: the peppers strips, pecorino cheese cut into medium pieces, rocket, cherry tomatoes cut halves, hand-chopped basil, olives, and the anchovy (cut into small pieces). Season everything with an emulsion of oil and IGP Gold Balsamic Vinegar of Modena, salt and black pepper.
Pair the salad with tarallini, focaccia, or garlic bruschetta. You will want to use the bread to dip in the delicious sauce made by the salad.
Tips
The time required to cook the peppers depends on their size and oven power, but sure they are lightly toasted because this particular "scorched" note is important for their flavour. The peppers can be baked in the oven in advance and stored in the refrigerator for about 3 or 4 days.