Rustic pie with savoy cabbage and potatoes
Loading…
If you are tired of the usual dishes, you can try this cabbage and potato pie. A crunchy shell with a savoury filling is quickly prepared and is an excellent idea for a healthy and tasty dinner.
Rustic pie with savoy cabbage and potatoes
Portions: serves 4 people
Ingredients
savoy cabbage 1/2
puff pastry roll 1 (or other homemade pie crust as you like)
medium potatoes 2
cheese such as scamorza gr. 120 (or provolone or cheddar)
garlic 1 clove
extra virgin olive oil 2 tablespoon
dry chili pepper 1 pinch
salt and pepper
breadcrumbs 1 tbsp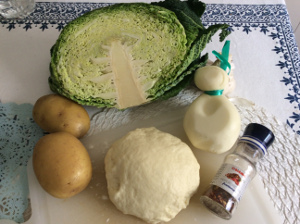 Preparation
Clean the cabbage and discard any wilting outer leaves. Wash it and cut it into strips, removing the central part.
Sautee the garlic with oil and chillies in a saucepan.
Add the savoy cabbage and cook until it becomes soft.
Clean the potatoes, peel them, and cut many regular slices (a few millimeters thick).  This is best done with a mandoline slicer if you have one.
Roll out the puff pastry and lay it with its parchment paper in a 20-22cm mold, pour in the spoonful of breadcrumbs, the savoy cabbage, add the cheese cut into cubes, and cover everything with the potato slices.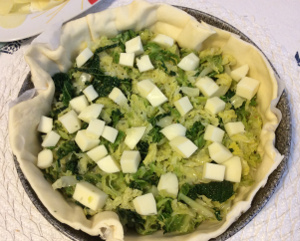 Drizzle with olive oil and cook in a preheated oven at 180° C for about 35 minutes, until completely browned.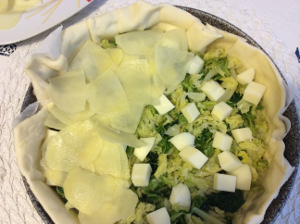 Serve hot or warm.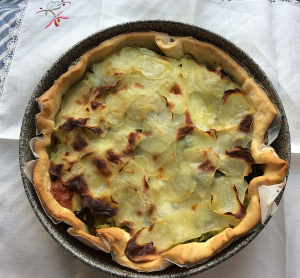 Tips.
You can use wholemeal puff pastry, ready-made brisèe, or other pie crust of your choice.
Other vegetables can be used instead of cabbage, for example broccoli or beets. Chili peppers can be omitted if you don't like spicy dishes.