Salad of artichokes, mint, and pecorino.
Loading…
Here is a recipe for a delicious and healthy lunch: artichoke salad with mint leaves, pecorino, chickpeas and potatoes.  It is quick and easy, with ingredients selected to surprise the palate with contrasts of flavor and textures. Perfect for these hot summer days.
Salad of artichokes, mint, and pecorino.
Ingredients
Serves 2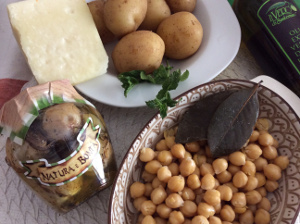 Grandmother's Recipe Wedged Artichokes 1 jar
Small potatoes 6
cooked chickpeas about 300 gr (1 jar)
medium-aged pecorino cheese to taste
fresh mint 1 sprig
salt and black pepper
extra virgin olive oil 1 tablespoon
Prelibato White Balsamic Condiment 1 or 2 tbsp
Preparation
If you are using dried chickpeas, soak them overnight and cook in water.  The procedure is here.
Otherwise, if you use the canned chickpeas, drain them and proceed with the potatoes.
Boil the potatoes. If they are small you can cook them whole for about 40 minutes. As an alternative, if the weather is hot or you have large potates, peel them and cut into thin slices, then cook for about 10-12 minutes. Once they are cooked, drain and leave aside.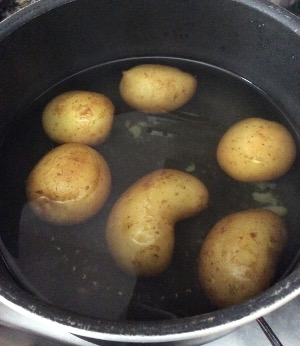 Wash the mint.
In a bowl, mix chickpeas, potatoes, artichokes cut in halves (keep some whole artichokes for topping), and the mint leaves. Season with extra virgin olive oil, salt, pepper, and vinegar. Mix well.
Set aside a few mint leaves for decoration. Using a sharp knife or a potato peeler, cut some pecorino flakes and sprinkle them over your chickpea, artichoke, mint, and pecorino salad.
Enjoy!
Tips
You can add a pinch of chilli or pepper to your taste.