When we introduce a product to new customer we always suggest a recipe that goes well with it. The recipe below is one of of our suggestions to our customers who buy our asparagus pate. Try it – it gets good reviews all the time.
As Trudi says, "Hi Franco, I made pasta with a jar of your asparagus mix and smoked salmon as suggested Delicious!!"
You will enjoy it too. It's a very easy recipe to make that the whole family will like!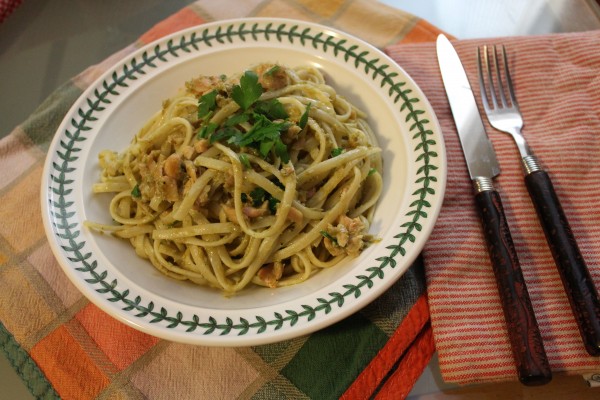 Salmon and Asparagus Patè Linguine
Ingredients
400 gr of Linguine
30 ml of Extra Virgin Olive Oil
2 cloves of garlic
150 gr of smoked salmon (cut into strips)
300 gr of Asparagus Patè
A bunch of Parsley
Salt and Pepper
Procedure
Put 4 lt of water to boil (1 lt for every 100 gr of pasta). When it is boiling, add 30 gr of coarse sea salt. Add the linguine and stir immediately. It will take between 11 to 14 minutes for it to be al dente.
Start  making the sauce while the pasta is cooking. In a frying pan, put the EVOO and warm it for about 30 seconds. Crush the 2 cloves of garlic with the flat part of a big knife and add them to the oil until golden. Drop the heat to medium. Here's a video on how I made the sauce. I fast forwarded it to 1′ 9″ but in real time it took me 4′ 30″ .
Take the smoked salmon and add it to the oil. Stir it for a minute or two then add the asparagus patè. Stir a little bit. Add two ladles of cooking water from the pasta and a bit of freshly ground black pepper.
Cook over gentle heat for 1-2 minutes more. Now the sauce will be ready to receive the pasta.
Check the pasta; it should be almost ready. Save a cup or two of cooking water and drain the rest. Add the linguine to the sauce. Toss all together for 1 min, if the sauce gets too thick, add a little of cooking water and serve it straight on a plate. Finish the dish with a drizzle of Extra virgin olive oil  and some freshly chopped parsley.
Enjoy and Buon Appetito!