Let's thank Head Chef Duncan McDougall from Taste Food Company for this easy but delicious dish that will surely intrigue your taste buds.
It's a mixture of tastes and textures that you and your loved ones will surely enjoy. The rich taste of salmon combines with the tartness of mango, the slightly fiery flavor of wasabi and the sweet-sour taste of all the other ingredients – giving this dish a unique taste that can definitely tease your appetite. It's an absolute must-try!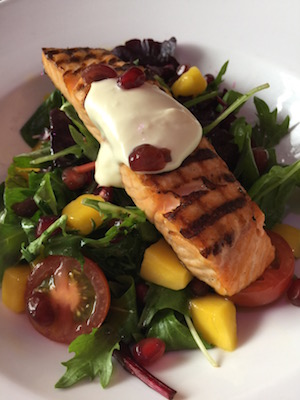 Salmon Mango Salad
Ingredients:
Mixed baby leaves
Diced fresh mango
Pin boned salmon portions
*Lemon dressing (recipe below)
Cherry tomatoes
*Wasabi Mayo (recipe below)
Pomegranate seeds
White balsamic vinegar
Procedure:
Toss all the salad ingredients in a large bowl with the lemon dressing.
If you have a chargrill, grill the salmon; otherwise just oven bake it @ 190 for 8 minutes.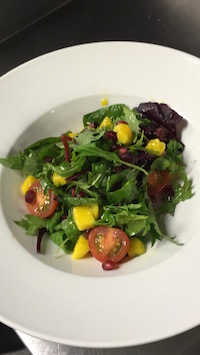 Lay the salmon on top of the salad.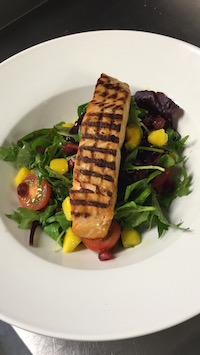 Top with a teaspoon of wasabi mayo and drizzle with white balsamic.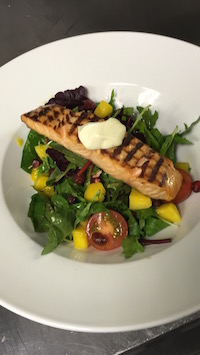 Enjoy!!!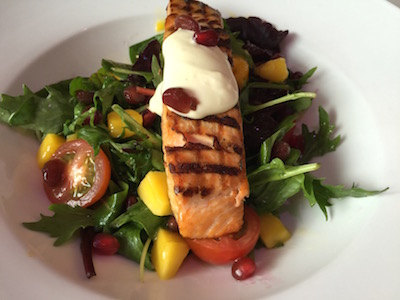 * Wasabi Mayo
1 tube of wasabi (43 grams)
250g good mayonnaise
squeeze lemon juice
In a small bowl, mix  the wasabi and the mayonnaise.
* Lemon Dressing
1 part lemon juice
4 parts extra virgin olive oil
Mix the lemon juice and the extra virgin olive oil in a small bowl. Whisk until well blended.