HO HO HO Christmas is coming!! Nice decorations, sparkling lights, a warm cosy fireplace… the only missing thing is a homely and fragrant smell of bread! The house is then ready to be the perfect spot for meeting family time and cooking!
The recipe of this week is not properly characterized by a quick preparation, but the result is so beautiful and delicious, that it is definitely worth the effort!
Try my Savoury Roses Cake with Pesto and Mozzarella! It is a very elegant cake that you can serve on your wonderful decorated table. The bread is warm and soft, and you will smell and taste the real and cosy flavour of Italian bakeries!
Savoury Rose Cake with Pesto and Mozzarella
Ingredients:
400g White Flour
120ml Milk
1/2 sachet of Brewer's Yeast
1 Egg
1/2 teaspoon of Sugar
1 teaspoon of Salt
200g of Mozzarella
1 jar of Green Pesto
60g Grated Parmesan
Pinenuts, as needed
Warm up the milk and pour in the brewer's yeast and half teaspoon of sugar, stirring everything together.
Let the yeast to get activated for around 10 minutes. In a bowl, put the flour, egg, Extra Virgin Olive Oil, salt, and the mixture of milk and yeast.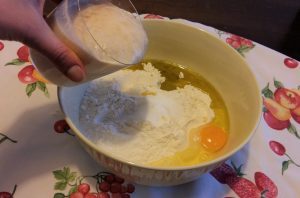 Stir all together and then move the dough on a pastry board, gently working the dough until smooth and soft.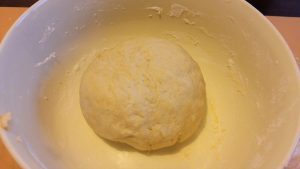 Put the ball of dough in the bowl again, and let it rest in a warm place for 2 hours.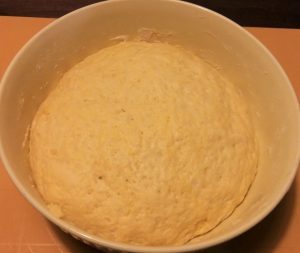 After this time, roll the dough out, to obtain a rectangular shape (around 50cm x 30cm).
Spread the https://cookwithgusto.com/pete-davidson-dating-miley-cyrus/ on top and then cover with the minced mozzarella.
Roll up the dough, and then cut the wrapped dough in 3,5cm width slices, and place them in a round tin with baking paper.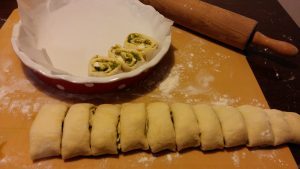 Let the dough rest for further 30 minutes, then add the grated parmesan and pinenuts on top.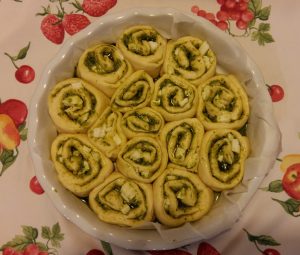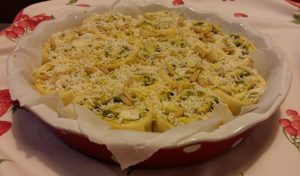 Put in the oven 190°C for 45 minutes.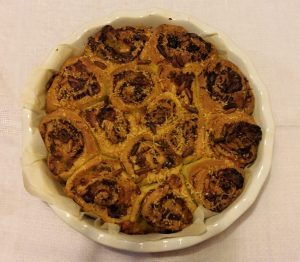 Stunning and delicious! Enjoy and…. Buon Appetito!