Savoy cabbage, mushroom and potato rolls
Loading…
Do you want to delight your guests with something original? Then you must try these cabbage rolls with mushrooms and potatoes! You can prepare them and serve as an appetizer or as a vegetable dish.
Ingredients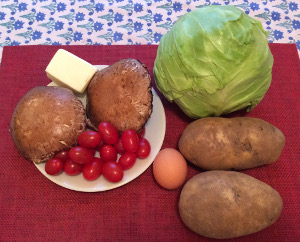 Savoy cabbage 10 large leaves
fresh mushrooms 300 gr (the weight corresponds to cleaned and cut mushrooms)
potatoes 2
fontina cheese 100 gr. (or cheddar, or Emmenthal)
grated Parmigiano 30 gr.
egg 1
cherry tomatoes about 10 (or a pack of tomato puree, or our Country Basil Pasta Sauce
Extra virgin olive oil 3 tbsp
chillies (optional)
Equipment
Chopping board, knife, non-stick pan, 1 tablespoon,  1 large bowl, 1 medium saucepan, baking pan.
Preparation
Wash the cabbage leaves and gently blanch them in a large pot with salted and boiling water. When they are soft, drain and pass them under cold water, then allow them to cool.
In the meantime, peel the potato, cut it into very small cubes, and cook the cubes in boiling water for a few minutes until they become tender (you can use the same water you have used to boil cabbage leaves).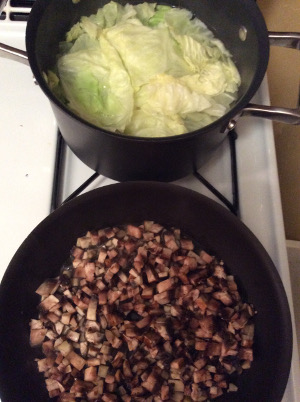 Take your cleaned mushrooms and chop into small cubes. Put some extra virgin olive oil in a non-stick pan, add the mushrooms, and cook for about 10 minutes (add chilies if you like spicy food).
In a bowl mix the cooked mushrooms, potatoes, diced Emmental cheese, egg, and parmesan. Season with salt and pepper to taste. Set aside a spoonful of Parmigiano for cooking.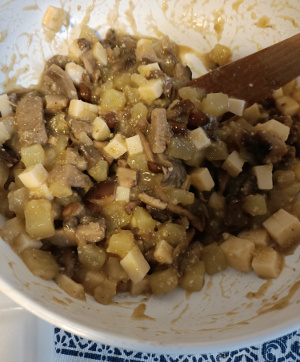 One cabbage leaf at a time, take the leaf, open it, spread it on a cutting board, fill with the mushroom filling and roll it up.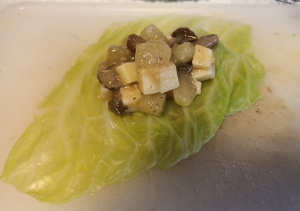 Preheat the oven to 180° C.  Cut the cherry tomatoes into two halves. Grease an oven dish with oil, place the rolls inside in a single layer, and top with the cherry tomatoes.
Spread the remaining grated Parmesan on top, drizzle with oil, and bake for 30 minutes at 180° C.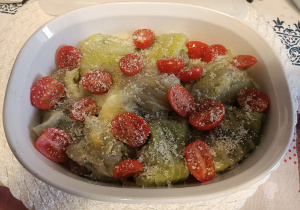 Serve hot accompanied by a good glass of wine.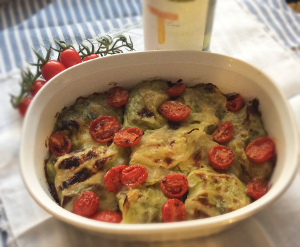 Tips
You can use other vegetables instead of mushrooms. We cooked potatoes and mushrooms separately for a lighter result. As an alternative, you can use a non-stick pan to cook the potatoes cut into small pieces together with the mushrooms.
Instead of mushroom, you can use a sauce like our Artichoke Paté or our lesbian dating ireland. In case you like spicy food, you can add a few spoons of our https://cookwithgusto.com/black-dating-app/ in the filling.