Sea bream with fresh ginger and cherry tomatoes
Loading…
Here is a fish recipe with a delicate flavour and excellent nutritional properties. Ginger and pine nuts make a great combination that will amaze you.
Ingredients for 2 servings

Sea bream fillet 400 gr. (or other fish such as fresh cod fillet or sea bass fillet)
extra virgin olive oil 5 – 6 tbsp
juice of 1 lemon
chillies 1 pinch
fresh ginger root about 1 cm.
garlic clove 1
shelled pine nuts 1 tbsp
ripe fresh cherry tomatoes about 400 gr
1 bunch of parsley
fresh thyme a few leaves
salt and pepper to taste
Preparation
Prepare a marinade with the olive oil, lemon juice, chopped chilli pepper, chopped parsley (previously washed thoroughly), thyme, grated fresh ginger root, and garlic.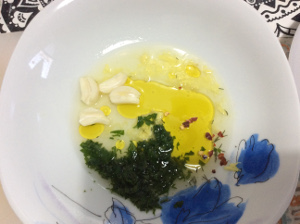 Coat the fish in the marinade, so that it soaks up the flavours.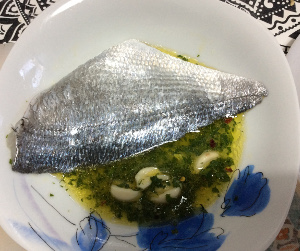 Prepare a baking sheet lined with parchment paper. Preheat oven to 200 ° C.
Remove the fish from the marinade and put it in the pan. Place the tomatoes on top, salt them slightly, then add half of the pine nuts previously cut with a knife. Drizzle everything with the remaining marinade.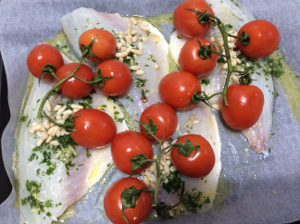 Bake in the oven for about 12 minutes.
Remove the fish from the oven and check the cooking. Add a few minutes of cooking if necessary.
Remove the fish from the oven, salt it on the surface and sprinkle it with a spoonful of olive oil, add parsley and serve immediately.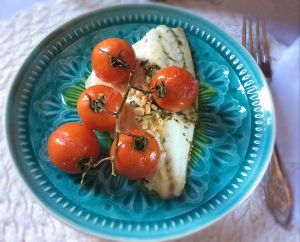 Tips
This makes an excellent main course, light and gluten-free. It goes especially well with basmati rice or quinoa, and grilled vegetables.
If you use larger pieces of fish, increase the cooking time.