Here I'll share with you the real recipe of Spaghetti alla Carbonara that is quite easy and simple to make.
dating sites younger woman older man
Most  people make it wrong.  Here's why: first of all, it has no cream, neither any of the following – chicken, peas, mushroom salmon or butter.
This is a recipe typical from Rome where you can taste it in some traditional Trattoria but it's not very common around Italy.
The ingredients that I used are for 2 people:
200gr of Spaghetti
2 full eggs and 1 yolk
120 gr of Guanciale (the cheek of pork) or if you don't find it use Pancetta tesa but not Bacon
40 gr of grated Pecorino Romano or Parmiggiano Reggiano
Black pepper, freshly ground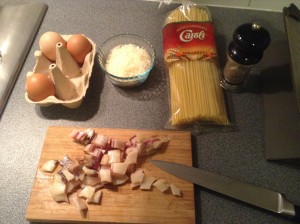 First of all, boil water for the spaghetti. Use 1lt for each 100gr of pasta and 10 gr of salt per liter used. Don't add oil to the water, please. You'll know why as well as other secrets about  cooking pasta, when you add your details here.
Put  the  spaghetti in the water.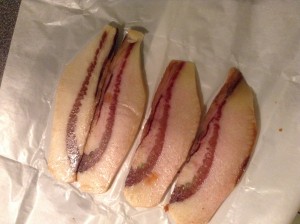 The real recipe is made using Guanciale, the pork cheek. In Rome, they cure it like ham or pancetta. It is very tender and extremely tasty. You could use pancetta as well but bacon doesn't suit well.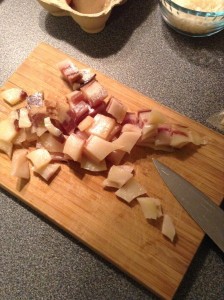 Cut the Guanciale in big chunks. Put a drop of Extra Virgin olive oil in a pan.  Add the guanciale and fry until it's crispy.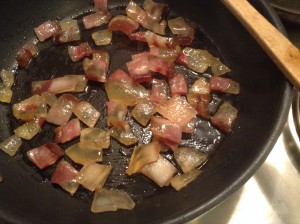 In a bowl, put 2 eggs and a yolk (for an extra creamy taste), the Parmiggiano and a generous amount of black pepper, but don't add any cream. Mix well together. This is the sauce!
It takes less than a minute 🙂
I wouldn't add any salt because the guanciale will be salty enough.
When the guanciale is crispy, remove it from the pan. Add the spaghetti when ready and cool them off a little bit while stirring all together (30 sec.).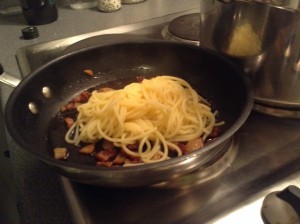 We don't want  the spaghetti to be too hot when we add the sauce. This is the difference between "Spaghetti Carbonara" and "Spaghetti with scrambled eggs"
Once the spaghetti cools down a little, add enough sauce that will coat each strand. Stir it thoroughly.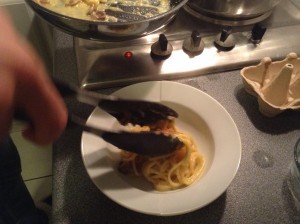 Serve immediately with some more Parmiggiano and black pepper.
dating sites younger woman older man
Buon Appetito