Squash and cannellini beans pie
Loading…
This recipe is a new idea for a delicious, healthy and balanced lunch or dinner.
Ingredients for 4 people:
Squash cooked and pureed 400 gr. (or 500 gr if weighed raw).
cooked cannellini beans 300 gr.
Medium 3 eggs
Grated Grana Padano or Parmesan cheese 100gr.
Grated bread 3 tbsp
Salt to taste.
pepper as needed.
extra virgin olive oil or 1 tablespoon of butter to cook au gratin
To garnish:
Philadelphia soft cheese 125 gr.
Chives 1 tuft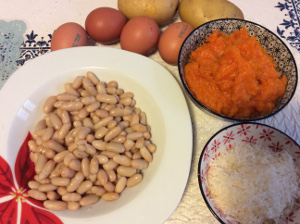 Preparation
If you have to cook the pumpkin, follow the instructions in this recipe,
or proceed to the next step.
Grease a baking dish with butter and spread the breadcrumbs on it.
You can boil the beans or use canned beans; the important thing is to drain them well. Put them in the blender together with 2 eggs, half the grated parmesan, and 1 tablespoon of breadcrumbs.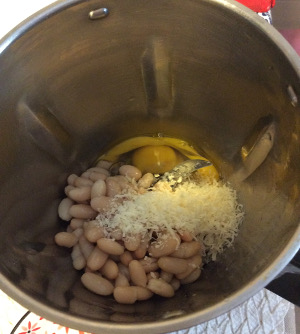 Mix, then pour into the previously greased baking dish.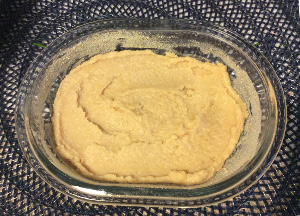 Take the squash and pour it into the blender, add 1 egg, the remaining grated cheese, and 2 tablespoons of breadcrumbs.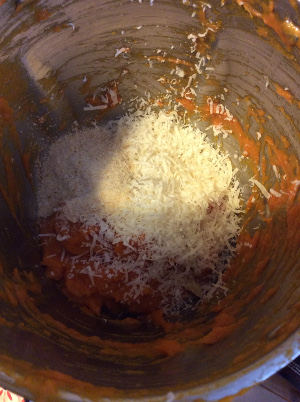 Season with salt and pepper and pour over the bean mixture.
With a fork, make indentations over the dough, add a few flakes of butter and spread a pinch of breadcrumbs on it.
Bake at 160 degrees for about 30min. After all the cooking time, another 5 minutes grill function.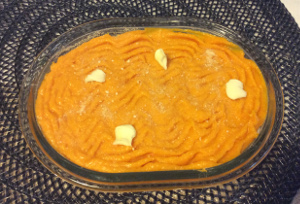 Serve hot with cream cheese and chives.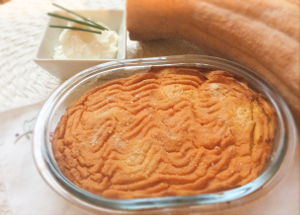 Tips
Cook the pumpkin in the oven; this way it will retain less water.