Squash gnocchi with butter and sage
Loading…
Here in Italy, it is very easy to find squash, especially in autumn but even now during winter.
So, when shopping in the markets, delicious squash recipes always come to mind. This week's recipe is one of the best and is also easy to prepare.
Adding two small potatoes give the gnocchi a deliciously silky consistency. The potato starch in the recipes guarantees that the dough stays firm enough.
If you want to prepare the gnocchi but you have little time, you can use canned and pre-cooked squash puree.
Ingredients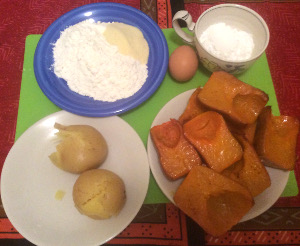 Small potatoes 2
Squash 500 gm. (or as an alternative 1 can ready to use squash puree)
Egg yolk 1
All-purpose flour 150 gm.
Potato starch 50 gm.
Semolina flour 1 tablespoon (optional)
Salt 1 pinch
Cinnamon 1 pinch
Nutmeg 1 pinch
Sage and butter sauce
Unsalted butter 2 tablespoons
Sage leaves 3
Grated Parmigiano Reggiano or Grana Padano as you like
Equipment
1 baking tray, 1 bowl, parchment paper, 1 large pot, 1 non-stick pan, 1 chopping board, 1 knife, 1 potato masher, 1 fork.
Method
Boil potatoes with their skin in salted water until they are soft.
Peel and pass through a potato masher, pressing them directly into the bowl.
If you are not using pre-cooked squash, then prepare roasted squash in the oven following our recipe here.
Peel and pass the cooked squash through a potato masher, adding it to the same bowl as mashed potatoes.
Mix squash and potato puree, then add the other ingredients: all-purpose flour, semolina, potato starch, egg yolk, nutmeg, cinnamon, and a pinch of salt.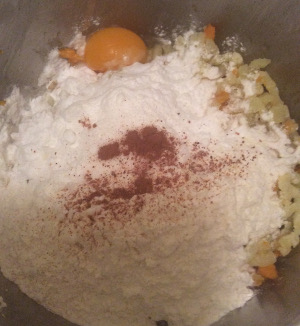 Quickly mix the dough but do not over knead.
Place the squash mix on a chopping board dusted with flour. Press the dough with your hands and add flour if needed.
Cut dough into long strips, about 1.5 cm thick. You don't need to roll them – this way you do not need to add more flour.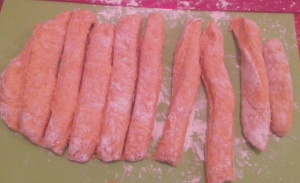 Then, cut into small pieces – about the same size as large olives.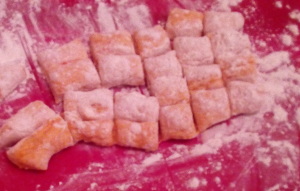 Dust with flour if needed and roll your gnocchi on a fork to make grooves.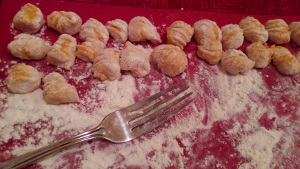 Meanwhile, bring water to a boil and add salt.
Add gnocchi, gently mix them with a wooden spoon, and cook for about 3 to 4 minutes. The gnocchi is cooked when they float at the top of the pot of boiling water.
While the squash gnocchi are cooking, melt the butter with hand-chopped sage leaves.
Drain gnocchi and stir with the butter-sage sauce.
Add Parmigiano and serve.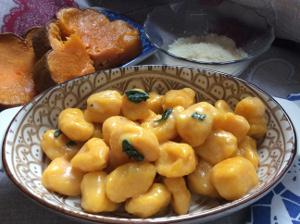 Tips.
Cook the squash in the oven to get a dry pulp.
Choose a variety of squash that is not too sweet, and also not too fibrous (e.g.avoid spaghetti squash). Acorn and butternut squash are particularly good.
If the squash appears too moist when cooking, and you like firm gnocchi, then you can add semolina flour.