Strozzapreti alla cenere
Loading…
In this recipe, the olive crumbs look like ashes and give the recipe its name.  The gorgonzola makes the sauce extremely rich, tangy, and creamy.  It takes only 10 minutes and just a few ingredients to prepare.  Coloured pasta shapes such as strozzapreti are perfect for this sauce. You can prepare your homemade pasta, as we did, or buy our special Caroli coloured shapes.
Ingredients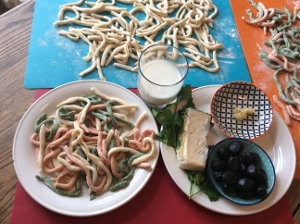 Strozzapreti pasta shape 320 gr. (or other colured pasta shapes such as farfalle allegre or spinach olive leaves)
Gorgonzola 150 gr. (or other blue cheese such as Stilton)
Black olives (pitted) 40 gm.
Fresh milk 120 gr.
Parsley about 12 leaves
Minced garlic 1 teaspoon
Salt and pepper as needed
Extra virgin olive oil 1 tablespoon
Equipment
1 large pot, 1 non-stick pan, 1 chopping board, 1 knife.
Procedure
Pour olives, parsley and garlic into a food processor and chop them coarsely.  (You can also chop them with a knife.)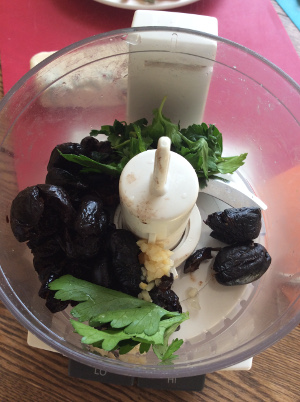 Bring water to a boil to cook the pasta (do not forget to add salt).   While it is heating, prepare the gorgonzola sauce.
Remove the cheese crust and cut into cubes.
Pour the milk into a pan, add a little oil and add the gorgonzola.
Let it melt, stirring constantly.
At this point cook the pasta – remove it from the water and drain it 2-3 minutes before what is suggested on the package. Keep a cup of cooking water aside, to be added if needed.
Put the pasta into the sauce and finish cooking it in a pan, stirring often.
When cooked, add the chopped olives and mix well.
https://cookwithgusto.com/hook-up-mature/
Serve the pasta topped with grated black pepper, and enjoy!
Tips
Coloured pasta are a good choice to complement the chalky colour and black olives of cenere sauce.