Stuffed bell peppers "alla poverella"
Loading…
The other day, the stalls at the farmers' market were full of fresh bell peppers. They were of all shapes and colors, and perfect for this week's recipe: stuffed peppers "alla poverella" . You can prepare them in just 10 minutes, then pop them in the oven and wait for them to bake.
Despite the name of this dish, which translates roughly as "poor women's peppers" and suggests a very simple dish, their taste is really gratifying. They are prepared with "whatever is in the kitchen" – stale bread, chopped tomatoes, capers, olives, an egg, and a handful of tasty grated cheese.
During cooking, the stale bread absorbs the tomato sauce and takes an almost fleshy consistency inside. At the same time, a crunchy crust forms on top. The result is two deliciously complimentary textures.
This dish is quite versatile. You can add spicy sauces, such as "Cannonata", or others such as "Artichoke Paté", or "Asparagus Paté ". In these cases, you can also add stringy cheeses, like mozzarella.
Stuffed peppers "alla poverella" are a great dish because they help to avoid wasting food. Also, they are healthy thanks to the high vitamin C  content of the peppers.
Ingredients
large red peppers, 4
chopped tomatoes, 200 gm. (or other tomato sauce)
capers, 1 tablespoon
green olives, 10 or 12
stale bread chopped, 1 cup
egg, 1
grated Parmigiano cheese, 40 gm. (or other cheese such as Grana Padano or Cheddar)
basil, 2 leaves
salt and pepper
oregano, 1 teaspoon
breadcrumbs (or panko), 2 tablespoons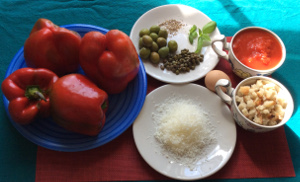 Equipment
1 baking tray, 1 large bowl, 1 knife, 1 chopping board, parchment paper.
Preparation
Wash and clean the red peppers and divide them in half.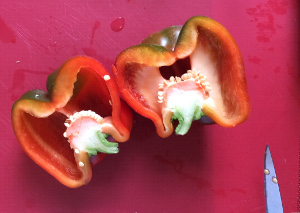 Remove the stem, and discard all of the seeds.
when do you have a dating scan
There are also some white veins (pith) throughout the pepper. Cut these out with a knife and discard.
https://cookwithgusto.com/how-to-hook-up-ring-doorbell/
Place a sheet of parchment paper in a baking tray and arrange the half peppers, with the pockets facing up.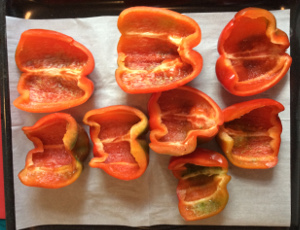 Prepare the filling.
Keep the breadcrumbs and oil aside. Place all of the other ingredients in a bowl – chopped stale bread, chopped tomatoes, the egg, grated Parmigiano cheese, chopped pitted olives, chopped basil leaves, oregano, and capers — and mix together thoroughly.
Adjust the salt and pepper to taste (be careful when adding the salt, since some ingredients may already be salted, including the capers, olives, and cheese).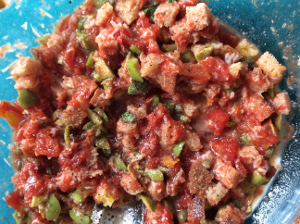 Stuff peppers with filling using a tablespoon.
Sprinkle each with breadcrumbs and drizzle with olive oil.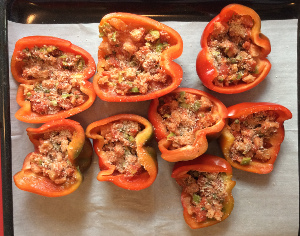 Cook in a preheated oven at 180 degrees for about 40 minutes until they are crispy and golden on top.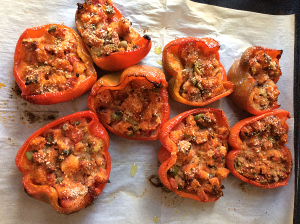 Serve and enjoy!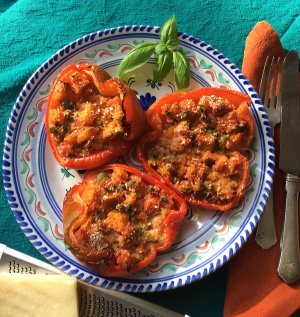 Tips
You can wash peppers to remove the seeds.
You can use chopped tomatoes, chopped fresh ripe tomatoes, or a high quality tomato sauce like Country Basil Sauce.
If stale bread leftovers are not available you can use panko instead.
If you like garlic, you can add a bit of minced garlic to the ingredients.
You can use bell peppers, aubergines, zucchini, and even onions if you like other vegetables.
Let your creativity run free!