After a bank holiday long weekend, especially the Halloween one, both adults and children get loaded up on sweets and heavy meals, though really delicious.
For this reason, people usually want to have some fresh veggies and fruits… but this not mean renouncing tasty flavour!
To eat healthy and flavourful at the same time, try my:
Stuffed Peppers with Rice and Mozzarella!
Ingredients for 6 people:
6 Peppers, both yellow and red, as you prefer
300gr Rice
100gr Ham
100gr Pitted Green, Rosate or Black Olives, as you prefer
1 Vegetable Stock Cube
Dried Mint
Salt and Pepper, as needed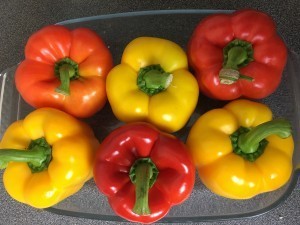 In a large pan bring to boil 3 lt of water with the stock cube. Put the rice in, and cook for the time indicated on the box. I've used Arborio Rice that takes 15 min to cook. Drain when cooked.
Meanwhile, with a small knife, wash the peppers, cut their tops off  and reserve then scoop out the seeds.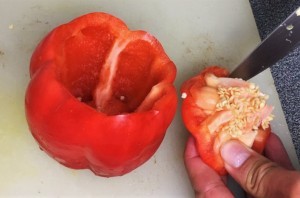 Prepare the filling: slice the sun dried tomatoes, cube the mozzarella and cut the ham in smaller pieces. Obviously, it is optional, if you prefer a vegetarian recipe. Stir everything together with the minced olives, mint and season well. Then, mix this with the drained rice.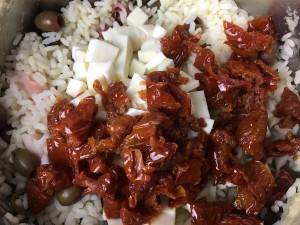 Spoon the rice mixture into the peppers.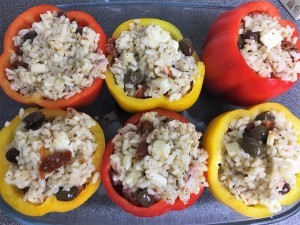 Place the peppers in a tin, top with the reserved lids and bake for 30 min at 190º static or 180º fan oven.
Remove and serve immediately or at room temperature, sprinkled, if you like, with chopped basil and parsley.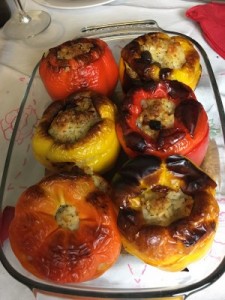 Stuffed peppers make delicious and healthy starters or light snacks!
Don't miss it! Enjoy the stringy mozzarella and.. Buon Appetito!