Summer vegetable gratin
Loading…
Vegetable gratin is a classic that every Italian family cooks during the summer months.
The ingredients are very simple, but what matters is the vegetables: they must be fresh and seasonal.  The dish is then a perfect contorno to accompany grilled meat or fish.
Ingredients
zucchini 1
eggplant 1
peppers 2 (red and yellow)
ripe tomatoes 2
extra virgin olive oil 4 tablespoons
salt
garlic 1 small clove
For breading
breadcrumbs 4 tablespoons
grated pecorino or Parmigiano cheese 2 teaspoons
pepper (optional)
parsley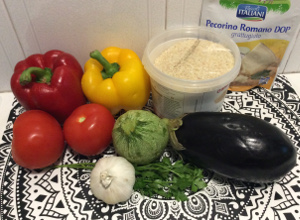 Preparation
Wash the vegetables well and dry them.
Remove the seeds and the internal white filaments from peppers, then cut into slices.
Cut the zucchini lengthwise into slices about 1 cm thick.
Cut the aubergines into round slices about 1 cm thick.
Cut tomatoes into halves.
Use a knife to carve a diamond pattern on courgettes and aubergines; this will help them cook evenly and enhance their appearance.
Line a baking tray with parchment paper and place the vegetables in a single layer, add salt, drizzle with oil.
Place parsley and garlic on a cutting board and chop coarsely.
Pour breadcrumbs, extra virgin olive oil, parsley and garlic, and grated cheese into a bowl, mix well, and sprinkle over the vegetables.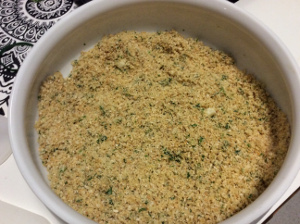 Season with the oil (drizzled gently over the vegetables), and bake in a preheated hot oven at 180 ° for about 25 minutes, last 2-3 minutes activate the grill.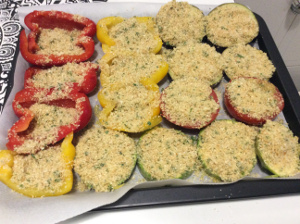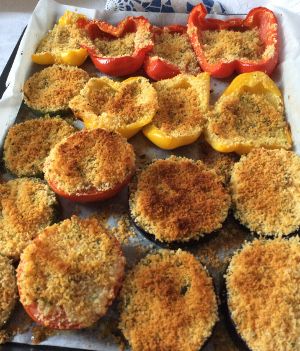 Serve and enjoy.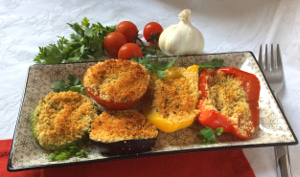 Tips.
You can use other seasonal vegetables as an alternative, such as endive, onions, and mushrooms.
You can pair this dish with a rich second course, such as grilled meat or fish. A vegetarian alternative is pairing these vegetables with grilled cheese (such as halloumi, or provolone or other vegetarian cheese as you like).
The breadcrumbs filling can be prepared in many ways, and you can use stale bread or gluten-free bread.  For a richer version, you can also add black olives or nls oracle date format to the filling.