Saint Valentine's Day is around the corner and love is certainly in the air! We all show love differently; from the husband, wife, beloved partner; the best friend, the closest relatives to the lovely cat… but one collective love thing is for sure – everyone LOVES being loved with a home-made super tasty and healthy energy boosting full BREAKFAST!
So today here is my delicious recipe for the loveliest breakfast ever! Just wake up on the 14th of February and cook this delicious recipe for your loved ones… and yourself…of course!! It is the perfect combination of great flavours and a healthy balance of nutrients that makes it the best way to start your day…and it is obviously MADE WITH LOVE!
Don't hesitate to try my:
Sweet Peppers Fried Egg Full Breakfast
Ingredients (for each person):
1 (or 2 if hungry!) Egg
1 Jar of Peppers Strips
Ham
Slices of Bread
1 Avocado
Cherry Tomatoes
and whatever else you like to add to make the perfect Breakfast..!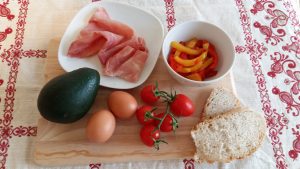 Fry 2 tablespoons of peppers strips with a little bit of Extra Virgin Olive Oil in a pan for few minutes.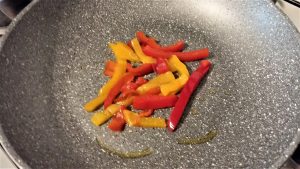 When the strips are heated add the eggs on top and fry them until fully cooked.
For the upcoming special occasion, I used a heart-shaped cookie cutter!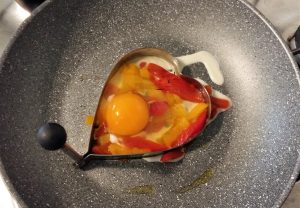 In the meantime:
Slice the avocado and cube the cherry tomatoes. Then dress the tomatoes with oil, salt and oregano.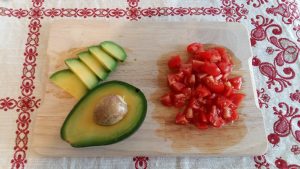 Toast the slices of bread and place the avocado slices on top; season with salt and pepper.
Finally, fry the ham for a few minutes in the same pan as the egg.
Serve all the ingredients together and yum yum!! All done!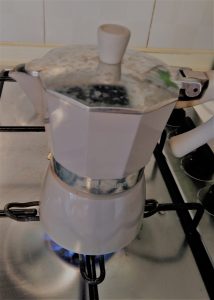 Don't forget a big cup of coffee with milk!
Buon Appetito! I wish you a Loving Day with a nutritious boost of energy!