I will teach you a simple recipe that you can make by yourself or with the help of your children 🙂
My grandfather used to love this snack with a piece of salami or cheese. He especially enjoyed it when he was at work because it's very tasty, easy to transport and a good source of energy.
How to Make Tarallini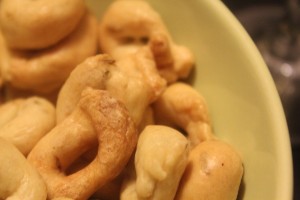 If you are preparing dinner for your friends and you want to surprise them with an aperitif that's crunchy and tasty that you made with your own hands, why not make Tarallini? It's a snack that's typical in Puglia and very easy to prepare. Enjoy it as it is with a beer or glass of wine or as a bread stick to scoop dips or accompany olives or sun-dried tomatoes. Your friends will definitely love it!!!
The Tarallini has only four ingredients –  plus flavouring of your choice.
250 gr Flour all purpose (if Italian Type 00)
60 ml of Extra Virgin Olive Oil
100 ml of dry white wine
7 gr of salt
As flavouring, you can use pepper or fennel seed or chilli (these are the most common in Puglia)
Here's how to make them:
A variation to the traditional recipe is to bake them directly without boiling them. The result will be delicious but not so crunchy. Try both and let me know which one you prefer.
If you want to enjoy the tarallini at any time, remember that you can order them here or find them at the markets.