"Strozzapreti" is an ancient typical shape of Italian pasta, mainly from the area of the Papal State, which, at that time, included several Italian regions: Umbria, Lazio, Marche and Romagna. In the beginning, as all the other pasta shapes, the Strozzapreti represented a typical meal only on holidays and in the wealthiest families. It's because in the past, wheat was one of the most expensive ingredients. The pasta became a usual food for the masses only around the early 19th Century.
There are many anecdotes about the origin of the name of this kind of pasta, which literally means "Priest Stranglers". The funniest one is about the anger of the farmers and the poor towards the clergy. It's a story that depicted priests as persons of insatiable appetite and used to gorge themselves with this delicious pasta that they ran the risk of suffocation.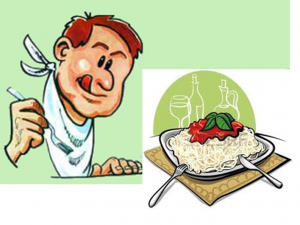 Another theory about the name of "Strozzapreti" concerns the greek origin of the words, namely the match of the verb "straggalào", meaning "to coil, to twist and to bend", and the verb "prepto", meaning "to squeeze and to hollow out", which represent the typical sequence of movements necessary to obtain this particular shape of pasta.
The dough is made using just durum wheat, water, and salt. Some people deem that the dough was eggs-free because the priests were used to loot the folks' houses and to keep all of them for themselves. For this reason, the farmer's wife (called "azdora"), while preparing the dough, wished the priests to be suffocated with the stolen eggs, while trying to make do with the left ingredients.
The preparation of the pasta is very important. It should be hand-made: rolling the dough, cutting it in 1,5 cm length strips and, finally, folding them, so as to obtain the characteristic roundness.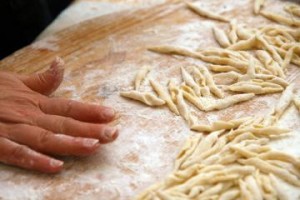 Born as a meal of the poorest, it was usually dressed in a very simple way, such as cheese and pepper or rustic sauces, such as bolognese or with vegetables.

Sometimes, it is possible to find flavoured strozzapreti, usually with spinach and tomato, which reminds anyone about the Italian flag. In this case, the pasta is already very tasty by itself and, therefore, the addition of some cold raw oil, salt and sliced cherry tomatoes could be more than enough, to obtain a complete and delicious dish.