"Bucatini" is a pasta shape characterized by a central hole that crosses the whole length of this particular big spaghetto. Thanks to this peculiarity, the boiling water reaches the pasta inside and out, so the cooking process is pretty quick.
The origin of the name is obvious since the Italian word "buco" means "hole". The ingredients of the dough are just durum wheat, water, and salt.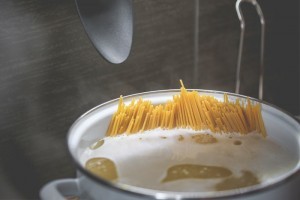 They originated from Naples, thanks to the important pasta manufacturing tradition of this area, mainly in Gragnano.
Nowadays, surprisingly, the bucatini is one of the most typical and beloved pasta shapes of Rome, where they are usually dressed with simple but very tasty and creamy sauces, such as pepper and strong cheese, carbonara sauce or bolognese sauce.
Anyway, everybody should know that the culinary excellence is Bucatini with the Amatriciana Sauce, based on "guanciale", which is a sort of exquisite bacon and tomato sauce.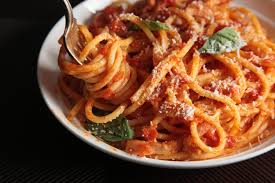 The first version of the Amatriciana sauce was called "gricia". It was made without the tomato sauce and the name comes from the typical Roman word of the 19th century, "griscio", used to name the food shop's sellers.
The invention of the tomato sauce dates back to the 1790s. It was often used and added to the pasta made in Amatrice, a tiny village close to Rome that had plenty of taverns and restaurants. Thus, the name.
Both versions of this sauce are very traditional that in 2015, they were legally recognized as patented recipes and earned an illustrious European acknowledgment, which confirms their authenticity, called "Traditional Speciality Guaranteed".
A curious anecdote is that in Sardinia, there is a different kind of bucatino which is shorter – around 10cm – and called "sos pipiriòlos". It is produced by using a wooden ancient press machine, existing only in this area. It was typically used for holiday and festivity dishes.
The name comes from "pipiriòlu", a typical word of the Sardinian dialect meaning "whistle".
pitru paksha 2022 start date and timecasting love island usa