Tomato, potato, cheese, and onion bake
Loading…
The extra virgin olive oil together with the tomatoes and fine herbs create a spicy and luscious mix that goes well with any second course, either meat and fish.
Ingredients.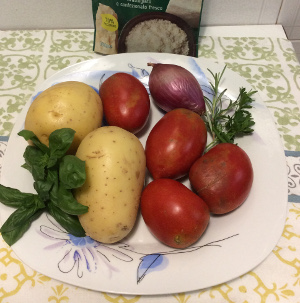 For 4 people (26 cm pan)
potatoes 600 (about 2 large)
onions 2
ripe tomatoes about 4
grated pecorino 5-6 tablespoons (or other seasoned savoury cheese)
mixed herbs 4-5 tablespoons (basil, rosemary, sage, oregano, parsley)
salt
pepper
Equipment:
Chopping board, knife, parchment paper, baking tray, colander, medium sauce-pan, small bowl.
Preparation:
Bring water to a boil in a medium sauce-pan, then and add salt (the pan should contain enough water to cover the potatoes).
Peel the potatoes, rinse, slice them thinly (maximum 3-4 mm) and place them the boiling water. Cook for about 2 minutes.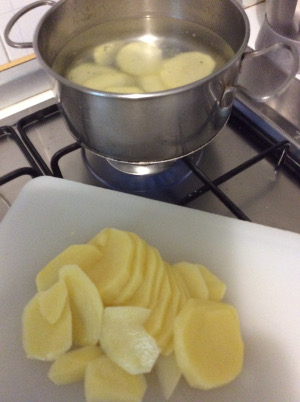 Meanwhile, wash tomatoes and slice 5 mm thick; peel the onions and slice very thin.
Chop the herbs using a knife, pour into a small bowl, and mix with the grated pecorino.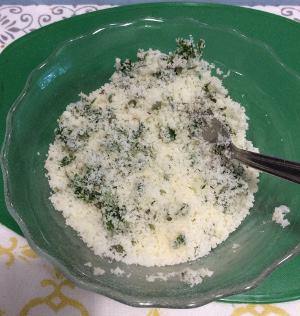 Drain the potatoes using a colander.
Place parchment paper into a baking dish. First, place a layer of potatoes in the bottom without leaving empty spaces, then, place a few onions and some tomatoes to get another layer.
Cover the entire surface with Pecorino and herbs, add salt, pepper, and a drizzle of oil.
Proceed with a second layer of vegetables, repeating the same sequence as above.
At the end of each layer, season and repeat the operation until all the vegetables and seasonings are used up.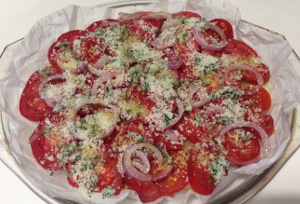 Top with the remaining pecorino and herbs, salt, pepper, and oil.
Bake in a preheated oven at 180 ° for about 30 minutes.
Serve and enjoy.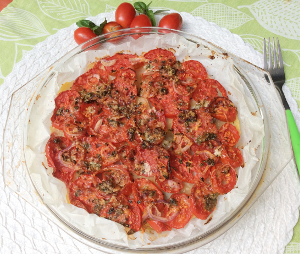 Tips:
Be sure to use ripe, fresh tomatoes and a well-aged, flavourful cheese.
This dish is delicious both hot, cold, and even on the following day. If ripe and fresh tomatoes are not available, you can replace them with other seasonal vegetables such as peppers, endive, cabbage, broccoli, and green beans.