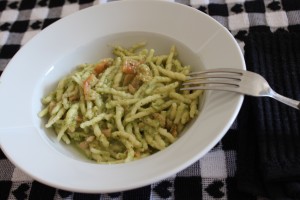 Basil Pesto is one of our best sellers. But if you want to do it by yourself, you can use my recipe with a twist 😉
Ever since I started living here, I have heard that pesto is used in so many different ways – on crostini, on pizza, with chicken and so on.
In Italy, it is used only on pasta or possibly on Trofie, the traditional shape of pasta for pesto in Liguria.
 Here's my simple recipe.
Trofie with pesto and smoked salmon
Ingredients for 4 servings
50 gr basil leaves
A pinch of salt
30 gr of pine seeds
50 gr of walnuts
1/2 garlic
25 gr of Parmiggiano
25 gr of Pecorino Romano
120 ml of EVOO more if needed
150 gr of smoked salmon
400 gr of Trofie
To prepare the pesto, I use a food processor. But if you don't have it, you can use a mortar and pestle.
I blend all the basil, the salt and 40ml of olive oil for a few seconds. Then, I add the nuts, the garlic (you can add more if you like it, in Italy the pesto is never garlicky) and another 40 ml of olive oil. Pulse together until all ingredients are blended thoroughly and reduced to a paste.  You can add EVOO if needed. Put in a bowl and add the cheese and stir it together. The Pesto is ready.
In the meanwhile,  you can cook the pasta for 13 to 15 min, as stated in the package. That's the usual time needed for our trofie to cook.
Cut the salmon in small pieces and stir fry it with a tbsp of EVOO in a skillet for 2 min.
Turn off the heat. Add the pesto and a little bit of water from the pasta. Stir it all together.
Now drain the pasta. Put it in a bowl. Add the pesto and salmon, stir and serve your Trofie with Fresh Pesto and Salmon immediately.
Buon Appetito.