Trofie with pesto, potatoes, and green beans
Loading…
Pesto trofie with potatoes and green beans is a classic among classics in Italian cuisine, and one of the most well-known and loved traditional dishes of Genoa.
The trofie are cooked together with the green beans and potatoes, which release their starch while cooking and make the pasta creamier. The small pieces of green bean and potatoes also enrich the pasta with different flavors and textures.
Ingredients for 4 people: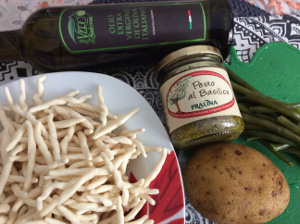 pasta trofie 500 gr. (or linguine or other pasta shapes as you like)
pesto 1 jar (200 gr.)
grated cheese (pecorino or parmesan) – optional 4 tbsp
extra virgin olive oil 1 tablespoon
potatoes 200 gr
fresh green beans 150 gr
salt
Equipment
Chopping board, knife, 1 tablespoon, 1 large saucepan, 1 baking tray.
Preparation
Peel potatoes, rinse, and cut into small regular cubes (about 1 cm).
Tick the green beans and cut into small pieces (about 1 cm long).
Bring a saucepan full of water to a boil, add salt, then add the potatoes.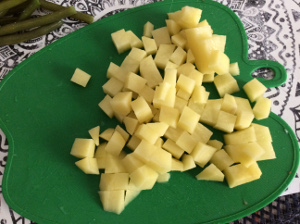 After 5 minutes, add the green beans.
Leave the vegetables to cook for another 10 minutes.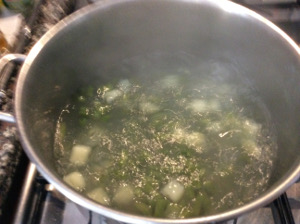 Add the pasta to the water with the cooking vegetables. When the pasta is cooked, drain it along with the potatoes and green beans and place in a large bowl.
Add the pesto, mix gently but thoroughly, adding a little more oil if necessary.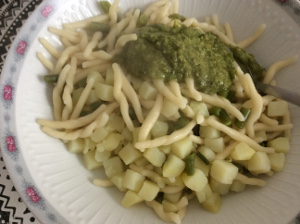 Place the pasta on plates and top with freshly grated cheese.
Your basil pesto trofie with potatoes and green beans are ready: Buon appetito!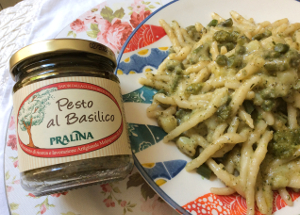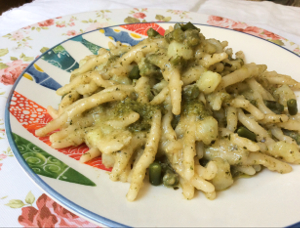 Tips
In case you want to store opened pesto, it is important to cover it with a thin layer of olive oil before storing in the fridge. It can also be frozen for 3 months in an airtight container; it can be then defrosted after placing the container in the fridge overnight.