Tuna, pesto and barley salad.
Loading…
Tuna, pesto, and barley salad is a wonderful idea for a quick lunch (also ideal for a lunch in the office or at work). You can prepare it in advance, and in fact, it is even more delicious after sitting in the fridge overnight as the flavours have time to mix.
Ingredients
serves 4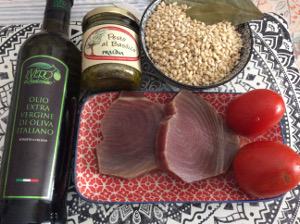 barley 200 gr (you can also use the pre-cooked type)
basil pesto about half a jar
fresh or frozen tuna 2 slices of about 100 gr each (alternatively you can use canned tuna fish)
ripe tomatoes 2 of about 80 gr. Each (or the same amount of cherry tomatoes)
extra virgin olive oil 2 tablespoons
Bay leaf a few leaves to cook barley
Equipment
1 non-stick pan, 1 chopping board, 1 bowl, 1 knife, 1 small bowl.
Preparation
Quickly wash the barley under running water, then cook in salted water after adding the salt and bay leaves.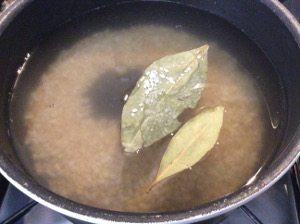 While the barley is cooking, wash the tomatoes, dice, and place them in a small bowl together with 2 teaspoons of pesto (you will use the remaining pesto to season the barley).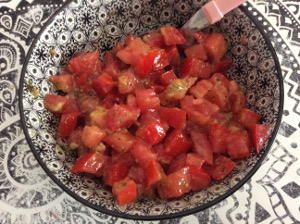 Heat a non-stick pan, add a spoonful of extra virgin olive oil and sear the tuna quickly on both sides. The cooking time depends on the thickness of the tuna slices and your taste. If it is about 1 cm thick then it will be seared outside and warm inside after just 30-45 seconds of cooking per side.
Add salt and pepper to the tuna, let cool, then cut into cubes then set aside on a plate.
After about 20 minutes, check the barley; it should be slightly "al dente." Cooking times vary according to the type of barley you have used; follow the instructions on the package.
Drain the barley and place in a large bowl.
Add 2 tablespoons of olive oil, the remaining pesto, and the tuna.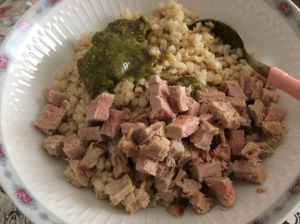 Arrange the seasoned barley on a plate and garnish with a generous spoonful of the tomatoes and pesto you had previously prepared.
Serve cold or lukewarm.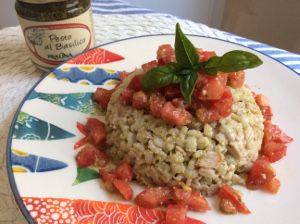 Tips
To make the recipe look even more irresistible, coat a small bowl with olive oil using a paper towel, fill it well with the barley and tuna mixture, press with a spoon, and turn it upside down onto a serving dish. This way you will create a nice barley dome to be decorated with chopped tomatoes and basil pesto. As an alternative, you can substitute barley with other cereals as you like or with pasta.
In case you want to store opened pesto, it is important to cover it with a thin layer of olive oil before storing in the fridge. It can also be frozen for 3 months in an airtight container; it can be then defrosted after placing the container in the fridge overnight.