Tuna with Prelibato Rosé marinade and grapefruit
Loading…
This last-minute recipe is perfect for the summer, when you want to eat something fresh and light without turning on the oven. The captivating aroma of  Prelibato Rosé vinegar is enhanced by the tart sweetness of the pink grapefruit and the savoury capers.
Ingredients for 2 people: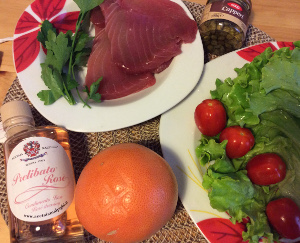 Pink grapefruit 1 half
Prelibato Rosé vinegar 3 table spoons
Fresh tuna fillets, 2 slices about 150 grams each (you can also use frozen tuna fillets)
Pickled capers 1 heaping tablespoon
Fresh parsley about 10 leaves
Fresh mint about 10 leaves
Salt 1 pinch
Extra virgin olive oil 2 teaspoons
Fresh salad and cherry tomatoes to complete the dish
Equipment
1 cutting board, a non-stick pan, 1 knife, 1 bowl, 1 dish
Preparation
Wash the fresh salad and tomatoes and set aside.
Peel the pink grapefruit by carefully removing all the white skin and holding the pulp. Carefully store the juice. Cut the grapefruit into small dices and put it in a plate or a small bowl together with its juice.
Add the capers (you can irregularly chop some of them) and Prelibato Rosé vinegar.
Wash the herbs, dry them, coarsely chop them and put into the bowl with the grapefruit and capers. Add a spoonful of extra virgin olive oil.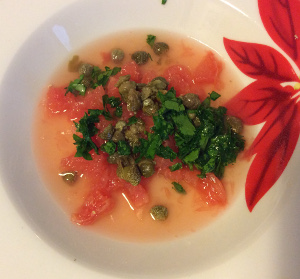 Heat a large pan over high heat, add the remaining oil and sear the tuna quickly on both sides. The cooking time depends on the thickness of the tuna slices and your taste. If it is about 1 cm thick then it will be seared outside and warm inside after just 30-45 seconds of cooking per side.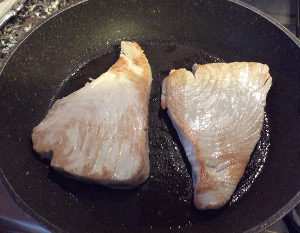 Remove the tuna from the heat and cut each in two halves to make four pieces.
Arrange the salad and cherry tomatoes on a flat plate, add the tuna cut into 2 pieces, and arrange half of the marinade of Prelibato Rosé, grapefruit, capers and herbs. Repeat with the remaining slices of tuna.
Enjoy your tuna with Prelibato Rosé marinade and grapefruit accompanied by a glass of crisp white wine – or, why not? – a lovely dry rosé!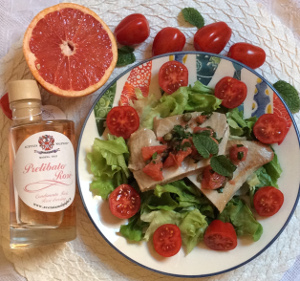 Tips:
In summer you can also enjoy this dish cold. If you have time, you can prepare it in advance, carefully cover it and keep it in the fridge for a few hours before serving. This will make it even tastier, as the flavors will have time to mix. If you cannot find pink grapefruits or if you want to try a variant, you can use yellow grapefruits and add to the marinade some https://cookwithgusto.com/zoom-hookup/ cut into small pieces. Fresh mint leaves give a unique taste to this dish, and we recommend using them. If you are really, really in a hurry you can prepare a mixed salad with tomates, canned tuna fish, and the delicious https://cookwithgusto.com/free-philippines-dating/ and grapefruit. Just toss gently and enjoy.