Autumn is just around the corner and the weather is getting a bit cooler. Here is a great warm turkey recipe for the colder months of the year. It's easy to put together and can be a perfectly hearty on a chilly day.
To give a special and unique taste to my recipe, I combined the turkey with Pitted Black Olives in Brine, these olives are quite salty and bitter giving a flavorful touch to meat, especially those that are light in taste like turkey. You can also use"Bella de Cerignola" Olives if you like them better or mix both of them!
I also added one spoon of Hot Chilli Pepper Spread to give a spicy touch to my recipe!
So what are you waiting for? Fasten your apron and welcome the Autumn with my:
Spicy Turkey with Mushrooms and Olives
Ingredients:
Slice the turkey breasts in small pieces.
Chop the onion.
Start frying the onion in a pan with a little bit of https://cookwithgusto.com/dating-sites-victoria-bc/ until it get slightly golden around the edges. After few minutes, add the turkey and one spoon of muslim dating sites saudi arabiafollowed by a pinch of salt.
Stir and fry all together for few minutes.
Now, you can add the olives in the pan. Then, and the white wine and cook it until is reduced.
Add the boiling water to the mixture, 2-3 ladleful. Reduce the heat, cover and simmer until the water is absorbed and the meat is tender. Continue to add one ladleful of water at a time and letting the water reduce until the pan is dry each time. It is more or less the same procedure that we use to make nice risotto!
Meanwhile, cut the mushrooms and fry them in a small pan with a bit of https://cookwithgusto.com/dating-sites-victoria-bc/ and the garlic clove. Cook it for 5 minutes and then turn off the heat.<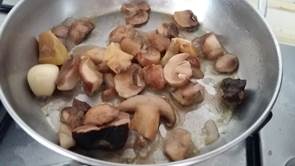 Fry the mushrooms with a garlic clove[/caption]
Mince the parsley.
Just 5 minutes before the meat is ready, add the mushrooms. Turn on the heat to a higher temperature and cook for 5 more minutes. Then, season the turkey breast with parsley and stir all together.
All done! Enjoy with your beloved one and… Buon Appetito!