Loading…
After gorging ourselves a bit too much during the Christmas holidays, it is time to detox. Nothing is better for this than a great soup. In Italy, this means a bean soup!
Let's choose our ingredients; in winter the best fresh vegetables are greens such as kale, cabbage, spinach, and cauliflower, along with potatoes of course.
There are lots of great recipes for Italian bean soups, but the classic recipes usually require advanced preparation and long cooking times.
Here we present a quicker, but still delicious version.
Your shopping list should include already-cooked beans, high-quality olive oil, and fresh vegetables. Finally, with the help of a food processor or blender, everything will be very easy.
Tuscan style bean soup
Ingredients
Serves 3
Tuscan kale or spinach 10 leaves
Potatoes 3
Small onion 1
Carrots 2
Savoy cabbage  ½
Cooked beans + their stock (or ready to use canned beans) 450 g
Sage 5 or 6 leaves
Tomato paste 3 tablespoons
Stock 500 gm. (vegetable or chicken stock, your choice)
Extra virgin olive oil 3 tablespoons
Salt and white pepper
Bread 4 slices (we used whole wheat bread)
Extra virgin olive oil 1 tablespoon
Grated Parmesan 3 tablespoons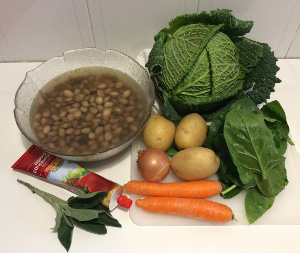 Equipment
1 large pot, 1 mixer/blender, 1 chopping board,  1 knife, 1 baking tray, parchment paper.
Method
Wash Tuscan kale (or spinach) several times, remove the central rib from the leaves, and chop coarsely.
Wash Savoy cabbage and cut it in the same way as Tuscan kale.
Peel potatoes and cut into cubes.
Chop the onion with the carrots in the food processor.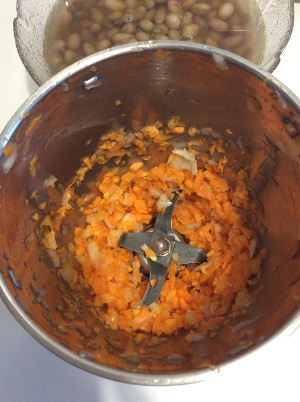 Heat the oil in a large pot and gently brown the prepared mixture of carrots and onion, about 5 minutes.
Add Tuscan kale, Savoy cabbage, sage, and potatoes. Pour about 2 cups of stock into the pot.
Raise the heat and cook the vegetables for about 15 minutes. Add the tomato paste diluted in a cup of broth.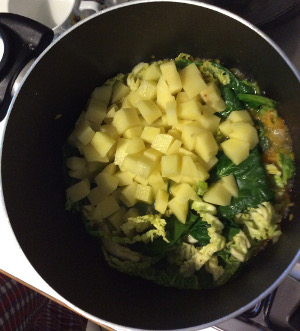 In the food processor, blend about 3/4 of the beans.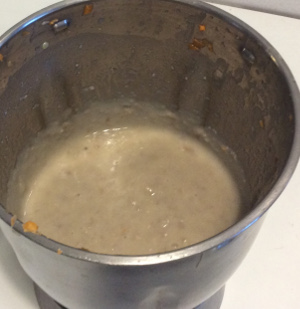 Add the obtained bean puree and the whole beans you have set apart. Pour their cooking water into the pot or add enough stock to obtain a fairly liquid soup.
Continue cooking for about 20 minutes.
Taste and add salt if necessary. Add ground pepper.
Meanwhile, heat the oven to about 200 degrees.
Slice the bread and place in a pan covered with baking paper. Sprinkle with extra virgin olive oil and sprinkle with grated Parmesan. Bake until the bread becomes golden.
Serve the soup with olive oil, toasted bread, and grated Parmigiano cheese. And, if you are in the mood, a good Tuscan red wine such as Chianti.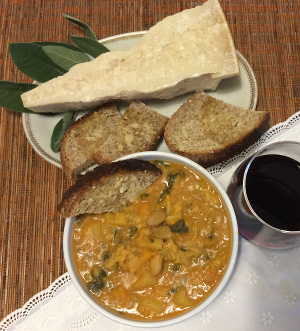 Tips
The bean puree ensures that the soup will have a wonderfully thick consistency. If you want a less dense soup, puree fewer of the beans.
Bean soups are always better with dried beans that are soaked overnight, then cooked for two hours in the stock.
If you don't have time to soak the beans, then try to find frozen precooked beans, which are usually better than canned beans.
This recipe also works well with lentils or chickpeas instead of the beans.