Today I'm posting a curious vegan recipe, Vegan Friselle with White Beans Purée, Basil, Peach and Balsamic Vinegar. It seems to be very strange and complex, but I swear that it tastes surprisingly gorgeous and fresh despite the bizarre match of ingredients! Try it, even if you are not following this practice. Vegan recipes could unexpectedly delight you.
I came up with this idea  for our vegan customers here at Taste with Gusto. Meeting them intrigued me. I got even more interested in the practice over the days so I tried to deepen my knowledge about veganism. Happy to say that I was able to help all of them, since most of our products meet all vegan requirements!
Dietary vegans refrain from consuming animal products, not only meat but also eggs, dairy products, and other animal-derived substances. Dietary vegans are often very focused on the health aspects of whole foods in general.
The term "vegan" was coined in 1944 by Donald Watson when he co-founded the Vegan Society in England, at first to mean "non-dairy vegetarian" and later "the doctrine that man should live without exploiting animals". Interest in veganism increased in the 2010, when vegan stores opened, and vegan options became available in more supermarkets and restaurants in many countries.
Vegan Friselle with White Beans Purée, Basil, Peach and Balsamic Vinegar
Ingredients
2 biologic peaches
8-10 basil leaves
200grams White Beans in the can (rinse before using)
7,5grams lemon juice (1 and 1/2 teaspoon)
1 teaspoon of zest of a lemon
a pinch of salt
1/4 of a clove of garlic
pepper
Preparation
First, prepare the white beans purée:
In a mixer, blend the white beans with salt and peeper, oil, garlic, juice and the zest of the lemon until you get a smooth and soft purée. Add salt or a little bit of water if necessary.
Rinse the peaches and cut them in slices. 2 slices for each frisella will be needed.
Rinse the basil leaves, dry them and cut them, as chiffonade.
Compose your tasty snack: spread the white beans purée on the frisella, add the basil, the peach slices, and finally, a generous drizzling of balsamic vinegar on top!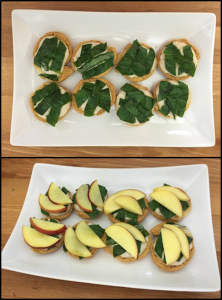 Trust me – it is already one of my favourite treats! Enjoy and Buon Appetito!