Vegetable Stuffed Courgettes
Loading…
Stuffed with a hearty mix of vegetables, these courgettes are a delicious alternative to classic meat stuffed courgettes, and are suitable both as an appetizer and as a second course.
Ingredients for 2 people
Courgettes 3
Stale bread 50 gr
Egg 1
Large ripe tomatoes 1 (or dried tomatoes 40 gr)
Small onion 1
Small carrot 1
Grated Parmigiano cheese 50 gr
Extra virgin olive oil to taste
Salt and black pepper
Parsley 1 sprig (or basil, or 1 teaspoon of Basil pesto)

Equipment
1 baking pan, baking paper, 1 knife, 1 cutting board, 1 plate, 1 non-stick pan, 1 blender.
Preparation
Start by washing and drying the zucchini. Remove the two ends and cut them lengthwise, then dig out the pulp with a spoon until you get a space to accommodate the filling. Salt and pepper each half courgette.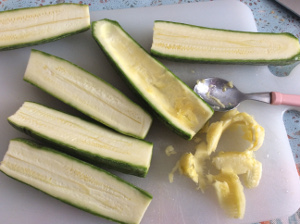 Put some extra virgin oil in a non-stick pan, then add the finely chopped onion and carrot and cook for about 2-3 minutes. Chop the courgette pulp and at it to the pan along with chopped tomato, and cook for 5 minutes. Add the aromatic herbs toward the end of cooking. Let the sauce cool.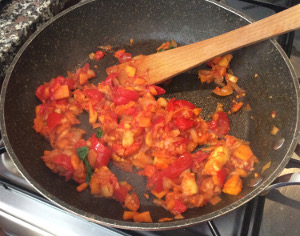 In the blender, chop the bread, add the egg, Parmigiano (keep aside a spoonful to sprinkle on top before baking), the sauce made with courgettes and the other vegetables. Salt to taste and mince.
Line a baking pan with parchment paper. Fill the courgettes with the vegetable mix, then arrange them in a baking tray.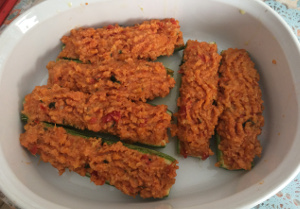 Sprinkle the remaining Parmesan and a drizzle of EVO oil on top for the gratin. Cook the courgettes in a static preheated oven at 180 degrees for about 25 minutes.
Your vegetarian stuffed courgettes are ready to be served.

Tips
For a richer version, add some diced mozzarella, fontina, or Cheddar cheese to the filling. You can use other vegetables instead of courgettes, for example aubergines.