Pasta "alla Vesuviana"
Loading…
Pasta "alla Vesuviana" is a delicious first course that is quick and easy to prepare! With a spicy combination of flavours, this original pasta is also ideal to amaze friends at dinner since it reunites all the flavours of Southern Italy.
Ingredients for 4 people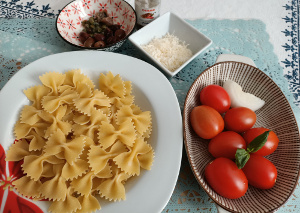 Pasta 400 gr.
Cherry tomatoes or tomato sauce 300 gr.
Pitted Olives 300 gr.
Small onion 1 (or half of a medium onion)
Chillies a pinch
Anchovy fillets 1 or 2 (optional)
Fresh Basil to taste
Grated Pecorino to taste
Extra virgin olive oil about 2 tablespoons
Salt and freshly grounded pepper to taste
Preparation
Start by cleaning and finely chopping the onion. Pour a drizzle of extra virgin olive oil into a large non-stick pan and sauté the chopped onion until it becomes transparent.
In the meantime, wash, peel, and chop the tomatoes. When the onion is well softened, add the cherry tomatoes, olives, chopped red pepper, basil chopped by hand, and anchovies, and continue cooking for 10 minutes, stirring occasionally.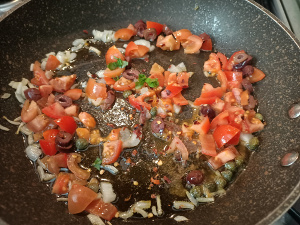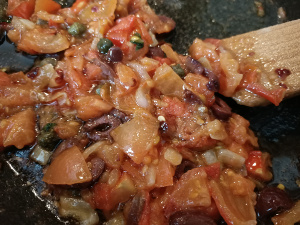 In the meantime, cook the pasta in slightly salted water, taking care to drain it when it is still "al dente" (2 minutes before the cooking time suggested on the pasta package). Retain a few tablespoons of the cooking water. When the pasta is ready, transfer directly into the saucepan.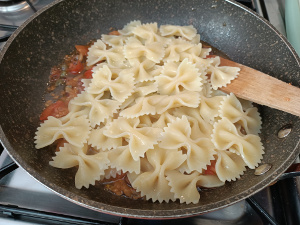 Season with salt and finish cooking the pasta in the sauce, possibly adding a few spoons of the pasta cooking water to adjust the consistency.
Turn off the heat, sprinkle with grated Pecorino cheese to taste, add more basil leaves and serve!
Tips
If you are vegetarian or vegan you can leave out the cheese and anchovies; you will get a tasty first course anyway! You can use other types of pasta such as spaghetti, orecchiette, or trofie. If you don't have cherry tomatoes, use tomato puree or our hiv dating site.