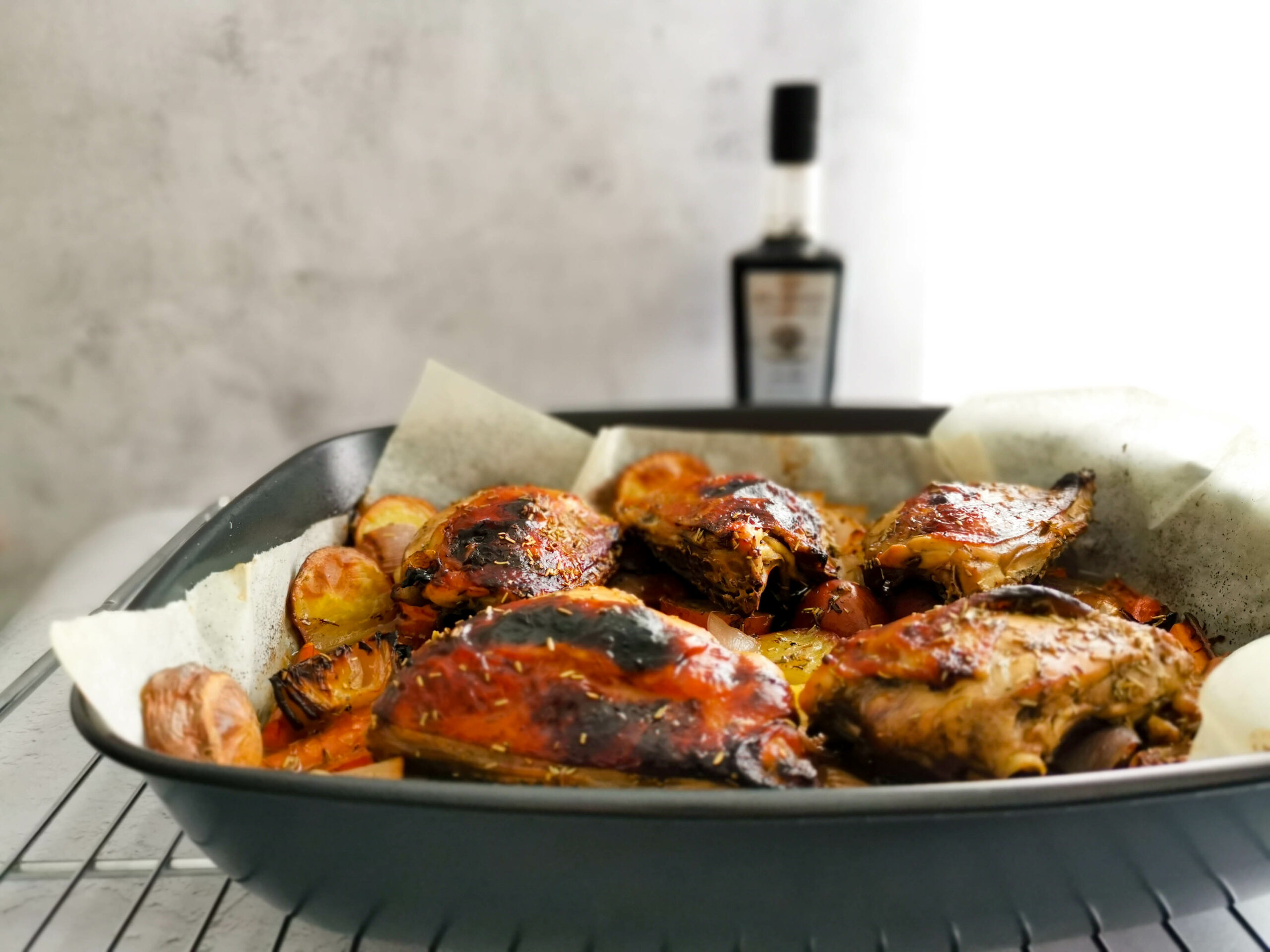 Balsamic Grilled Chicken Marinade
Balsamic Grilled Chicken Marinade
Balsamic Grilled Chicken Marinade is ideal for an easy Sunday roast. We are taking a classic dish and making it 1099% better. Imagine taking out of the oven a big casserole with a medley of vegetables topped with tender chicken thighs glazed with a sweet and ever so slightly sour balsamic grilled chicken marinade. Your kitchen smells divine and your mouth is watering. Are you ready to make this?
Ingredients
5 chicken thighs
2 medium onions
3 large carrots
8 small red/rooster potatoes
Belmorso Extra Virgin Olive Oil
2 garlic cloves
2 bay leaves
salt, pepper, rosemary, and thyme (fresh or dry)
Silver Balsamic Vinegar from Modena IGP

Preparation
Do this first step the night before or early in the morning, so your chicken has enough time to marinate.
Clean your chicken thighs; you can remove or keep the skin, as you prefer.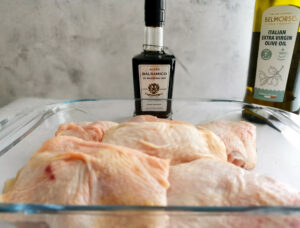 Place in a large casserole, season with plenty of salt and pepper. Then add the rosemary and thyme.
Drizzle a generous amount of Belmorso Extra Virgin Olive Oil and Silver Balsamic Vinegar.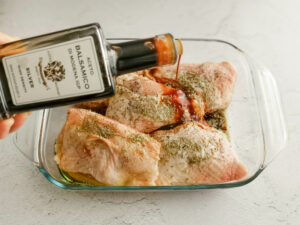 Turn the thighs so that each side gets dipped into the balsamic grilled chicken marinade.
Peel and cut two garlic cloves into half and add them together with 2 bay leaves at the bottom of the marinade.
Cover with a lid, or some plastic wrap. You can even put the chicken and marinade into a large ziploc bag. Leave to marinade in the fridge for at least 3 hours. Every 1 to 2 hours take a spoon and add the marinade with a spoon on top of the thighs. If you are using a bag, just shake it carefully.
The rest of the recipe is fairly simple.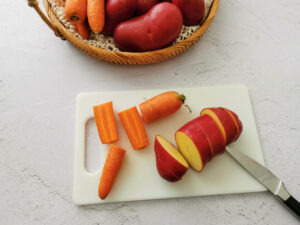 Wash your vegetables; peel them if you prefer; and cut them into medium chunks.
Layer them at the bottom of your large casserole. Season with salt, pepper, thyme, and rosemary. And drizzle with extra virgin olive oil.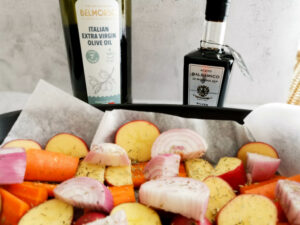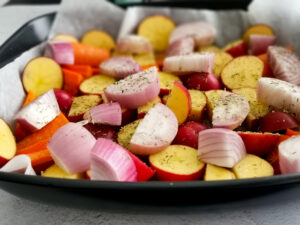 Bake in the oven for 25 to 30 minutes.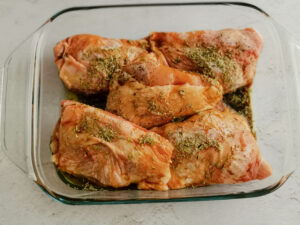 Take the marinated chicken thighs out of the fridge, remove the garlic and bay leaves.
Then take the vegetables out of the oven briefly, top the vegetables with the chicken thighs. Don't forget to pour the marinade on top.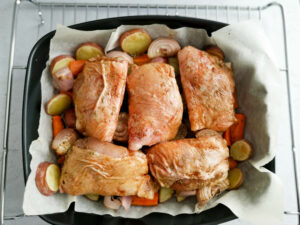 Continue baking for another 40 minutes or so.
Take out your balsamic grilled chicken, serve and enjoy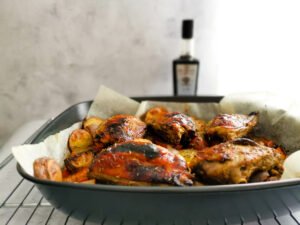 Tips
This delicious balsamic grilled chicken marinade is perfect for Sunday roast when you don't want to spend hours in the kitchen. Just remember to do the chicken and marinade prep before, and you are good to go. Lunch or dinner will be ready in around 1 hour and 20 minutes.