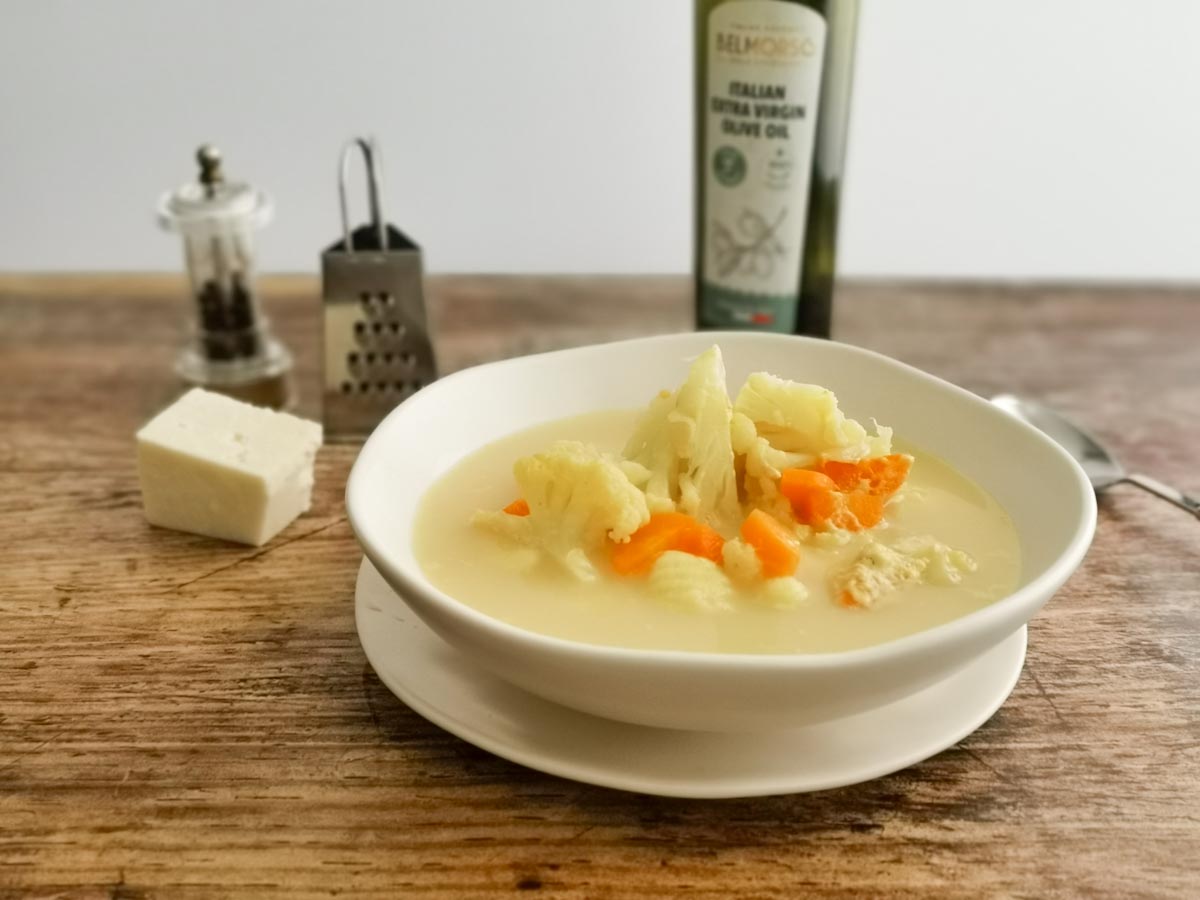 Cauliflower soup with gnocchi
The original recipe was posted on our new blog www.belmorso.com.
Winter is long, we get it. That doesn't mean you have to eat the same warm meals every week. Try this cauliflower soup with gnocchi next. We are pretty sure it's going to make it on your recipes' rotation list.
What to expect: this dish is simple and easy to make, wholesome, healthy and nutritious. Most importantly, it's full of flavour even without pasta, or extra cheese. You can enjoy it as a minestrone or blend it into a cream, before adding the pasta (that's how I personally like it :).
Let's make it.
What's to love about this Cauliflower soup
Minestrone with pasta is a delicious meal to make and enjoy throughout Winter, as well as during Autumn and Spring.
If you love Italian food, and appreciate comforting food, you're going to love this recipe.
You'll also love the fact that you can make it in under 1 hr; most of the time is needed for simmering not preparing it.
The recipe makes enough for 5 portions.
You can store any leftovers without the gnocchi in the freezer.
How to make this Cauliflower Gnocchi Soup
There are 5 steps in making this dish.
Clean and prep your vegetables
Make a soffritto
Add the cauliflower and liquids
Leave to simmer
Cook the gnocchi and serve
Below is our easy recipe, you can follow on your screen or print out.
The key ingredient in this recipe is our Belmorso Extra Virgin Olive Oil, a high quality EVOO that is rich in antioxidants and tastes delicious. It really adds a wholesome flavour to this simple meal, both in the soffritto and the final drizzle.
EQUIPMENT
1 chopping board
1 chopping knife
1 vegetable peeler
1 large pot
1 small pot
1 strainer spoon
1 soup ladle
INGREDIENTS
3

 

tbsp

 

Belmorso Extra Virgin Olive Oil

 

plus more for drizzling when serving

1

 

onion

 

medium

2

 

garlic cloves

2

 

stalks celery

3

 

carrots

 

medium

1

 

cauliflower

 

medium sized, about 700gr

2

 

vegetable stock cubes

1.5

 

litre

 

water

 

or enough to cover all the vegetables in the pot

200

 

ml

 

cooking cream

 

we are using dairy free

500

 

gr

 

gnocchi

 

between 10 to 15 per bowl

salt

 

enough to season

black pepper

 

enough to season

your favourite Italian herb

 

optional for extra flavour

1

 

tbsp

 

pecorino cheese

 

for grating or grated parmesan cheese
INSTRUCTIONS
Prepare all the ingredients you need. See ingredients list.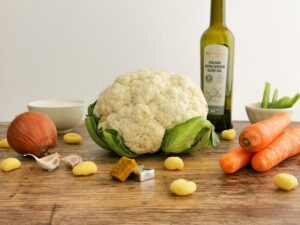 Wash, peel and cut the onion, garlic, carrots, and celery to make the soffritto.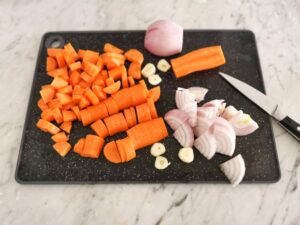 Wash and cut your cauliflower head into florets.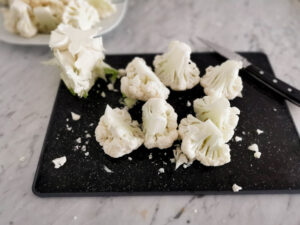 Add your soffritto vegetables (onion, garlic, carrots and celery) to a large pot with 3 tablespoons of Belmorso Extra Virgin Olive Oil. Mix and leave to golden for around 5 minutes; continue mixing from time to time and lower the heat.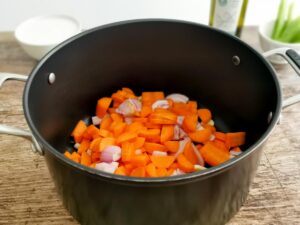 Prepare the vegetable stock by placing both cubes in a bowl with water and heating it up in the microwave for 2 to 3 minutes. Then use a spoon to stir the stock cube into the water and help it melt.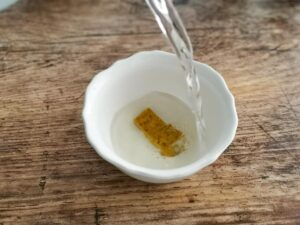 Add the cut cauliflower florets to your soffritto vegetables.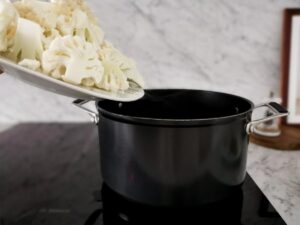 Add the bowl of water with the melted vegetable stock cubes.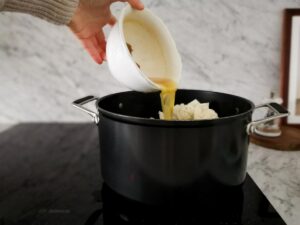 Add enough water, about 1.5 litres, to cover all the vegetables in the pot.
Add the cooking cream. You can use regular cream or dairy free cream.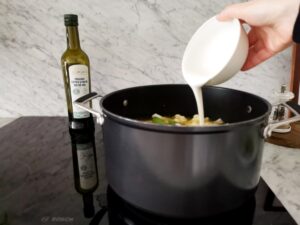 Mix everything, season with salt and pepper, cover the pot with its lid and leave to simmer for 40 minutes over low heat.
Feel free to add the optional Italian herb for extra flavours (oregano or thyme are good choices).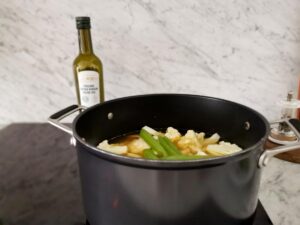 After 30 minutes, fill a medium sized pot with water, season with salt and leave to boil. Then add the gnocchi and leave to cook for about 2 minutes. You know they are ready once they start floating.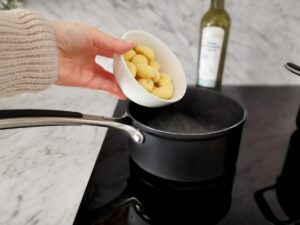 Take the pot of the heat. Drain and serve the gnocchi in each bowl. Top with two or more ladleful minestrone.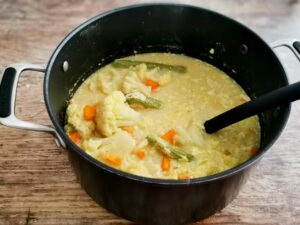 Finish by adding a crack of black pepper, a drizzle of Belmorso Extra Virgin Olive Oil, and a tablespoon of grated pecorino or parmesan cheese.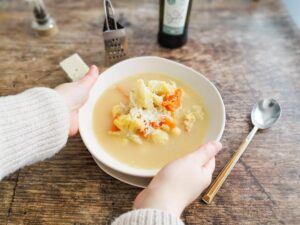 Optional: You can choose to blend your minestrone, add it to the gnocchi in a bowl and then garnish.
How to pair this Minestrone
This can be a complete meal because it also includes pasta. However, if you are someone who strives to always include protein with your meals, here are a few meal pairings ideas:
Grill some chicken and enjoy it alongside. Replace chicken with tofu if you are vegetarian.
Make a chicken salad to eat before or after the minestrone.
You can also top your plate with some plain shredded chicken.
Enjoy a high protein dessert like a bowl of Greek yogurt and nuts.
Other Italian Soup Recipes
Before you go, you may want to check these other recipes, and save them for next time you want to cook a warm meal.