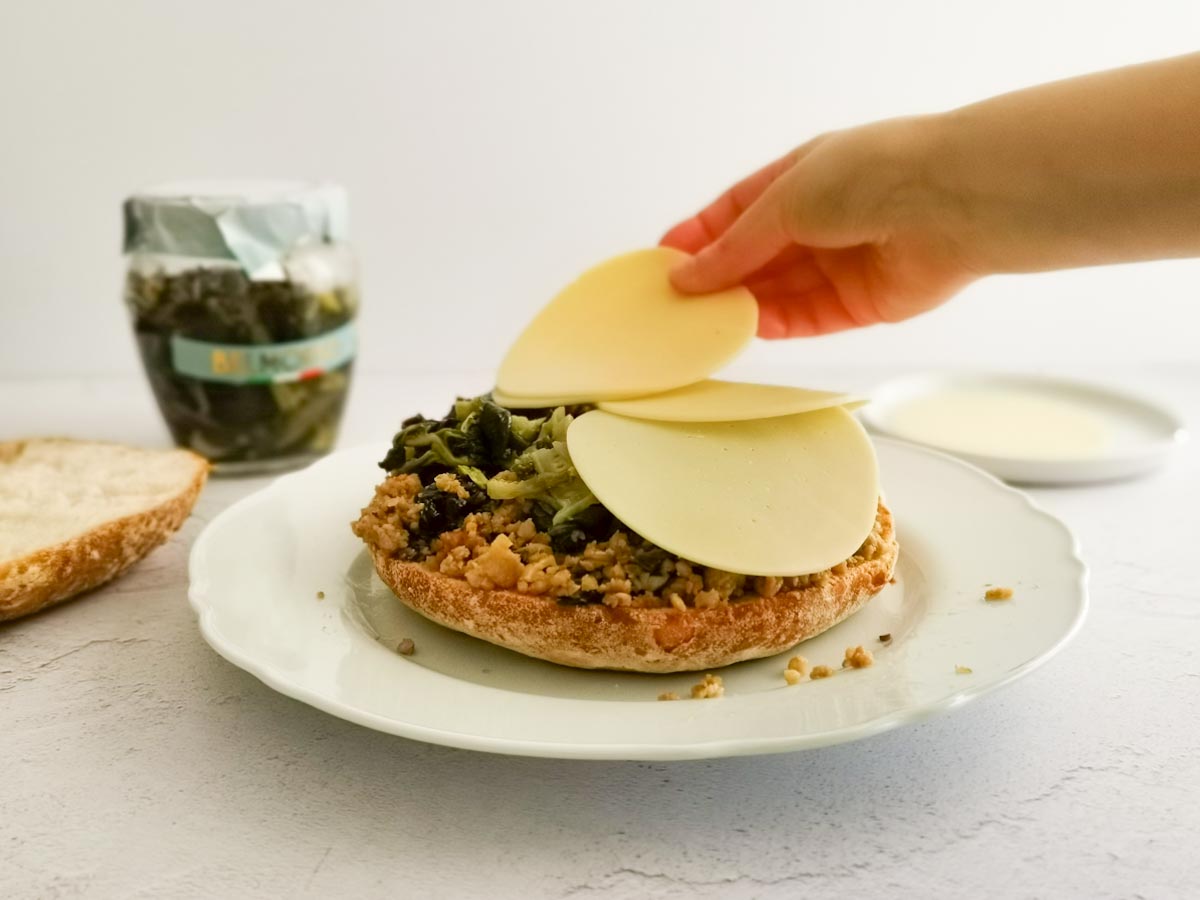 Sausage Sandwich from Puglia
This recipe was originally published on our newest blog www.belmorso.com.
If you are a meat eater, I bet sausage is one of your favourite things to eat. Luckily, Italian salsiccia is very versatile and can be used to make appetizers, pasta dishes, main courses and comfort meals. That's exactly what today's meal happens to be.. a comfort meal that you can enjoy for brunch, lunch or dinner.
What to expect: This sausage sandwich with cheese it's like a hug with a little punch. Sandwiches are comfort food, so eating them always feels like eating something comforting and delicious. This one is also a little hot and spicy. Did I forget to mention that it has cheese which you can melt under the grill?
Let's make it.
Who's this sausage sandwich for?
It's for you if you like this delicious meat, bread, cheese, and classic flavours.
It's for you if you like your food to be a little hot, but if you don't just skip the chilli flakes.
It's perfect both if you are making this for one person, or many. If you are making it for more people, simply double or triple the ingredients.
It's a great one to make for appetizers. In that case, use mini rustic rolls like mini ciabatta sandwich rolls.
It's also great if you are hosting a brunch, as it will be something your guests probably never tasted before.
Secret ingredient to make a mean sausage sandwich
You'll see in a minute that this Italian salsiccia sandwich includes very few and simple ingredients, except for one, which is what makes it so uniquely delicious.
I am referring to Belmorso Turnip Tops, a delicacy from Puglia, well known for the popular Orecchiette pasta dish featuring it. However, there's so much more you can make with Turnip Tops, including this delicious Italian panino.
How to make Sausage Sandwich Apulian style
The main steps to make it are:
Prep the ingredients
Make the filling
Assemble the sandwich
Grilling the sandwich – optional but suggested
The full sandwich recipe follows. You can read it on your screen or print it out.
Make sure you are using a high quality EVOO to cook your salsiccia meat filling.
INGREDIENTS
1

 

Rustic bread roll with a hole

 

or other farm-style homemade bread

2

 

Italian sausages

2

 

garlic cloves

1

 

tbsp

 

Belmorso Extra Virgin Olive Oil

120

 

gr

 

Belmorso Cime di Rapa

 

turnip tops

chilli flakes

 

optional

5

 

slices

 

Provolone cheese
INSTRUCTIONS
Take out all the ingredients and lay them on your counter.
1 Rustic bread roll with a hole,
2 Italian sausages,
2 garlic cloves,
1 tbsp Belmorso Extra Virgin Olive Oil,
120 gr Belmorso Cime di Rapa,
chilli flakes,
5 slices Provolone cheese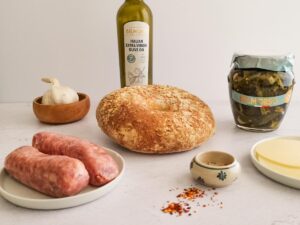 Remove the skin from the sausages and break into small pieces, using your hands or a fork.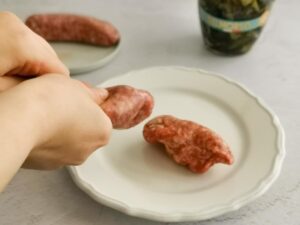 Peel and chop the garlic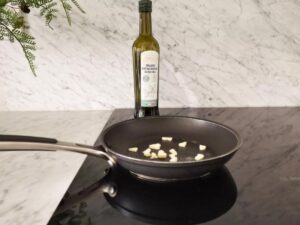 Add the garlic, 1 tablespoon EVOO and the salsiccia meat into a pan and cook until brown.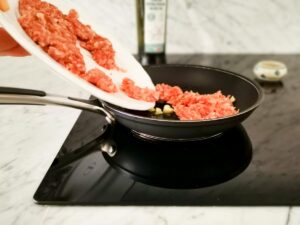 Open the Belmorso turnip tops jar, and spoon the amount indicated into a bowl.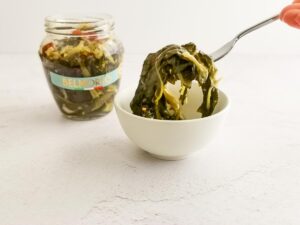 Add half of the turnip tops to the pan with the meat and mix. Leave to cook for 3 to 5 more minutes. Then, take the sausage filling off the heat.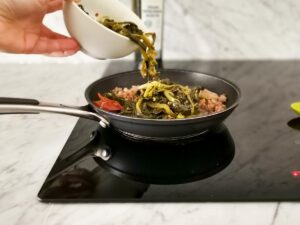 Cut open your sandwich bread.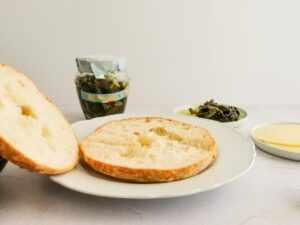 Fill the lower half of the sandwich with the cooked sausage filling.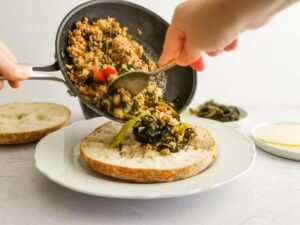 Add the remaining half of the turnip tops on top of the meat filling.
Add a few chilli flakes if you like a little extra heat.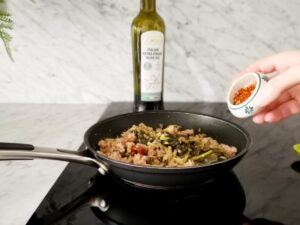 Finish the sausage sandwich with the slices of provolone cheese, and cover with the other half of the bread.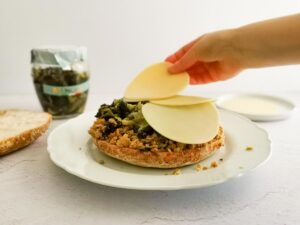 Grill in the oven for a few minutes so the cheese melts and the bread becomes crunchy.
Cut in half and enjoy.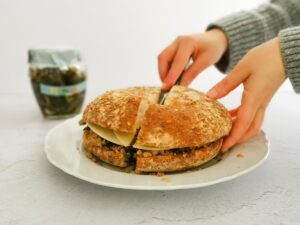 How to pair this Sausage Sandwich
I'd suggest enjoying this on its own the first time you make it. If you are looking for sandwich sides try one of these Italian salads.
If you want to make it as an appetizer for a party you are hosting, it would pair well with this antipasti platter. Simply, replace the other sandwiches with this one. You can use mini rolls, or slice the large sandwich into smaller pieces.
For brunch, this sausage sandwich would pair amazingly with this classic Italian omelette, these savoury croissants, and this iconic Italian salad.
You'll probably want dessert after eating this to refresh your palate. A sorbet or fruity ice cream is perfect, but so is a cold glass dessert.
Other tasty sausage recipes
Like you, we love sausage, especially Italian salsiccia. Here's a list of other recipes featuring this ingredient on our blog:
Other Gourmet Sandwich Recipes
We currently have five sandwiches on the blog, but you can expect many more to come soon. Here they are, one more delicious than the other.
If you have any recipe request, make sure to leave it in the comments. Also, feel free to share your favourite sausage recipe. Please, don't forget to rate this recipe if you like it.