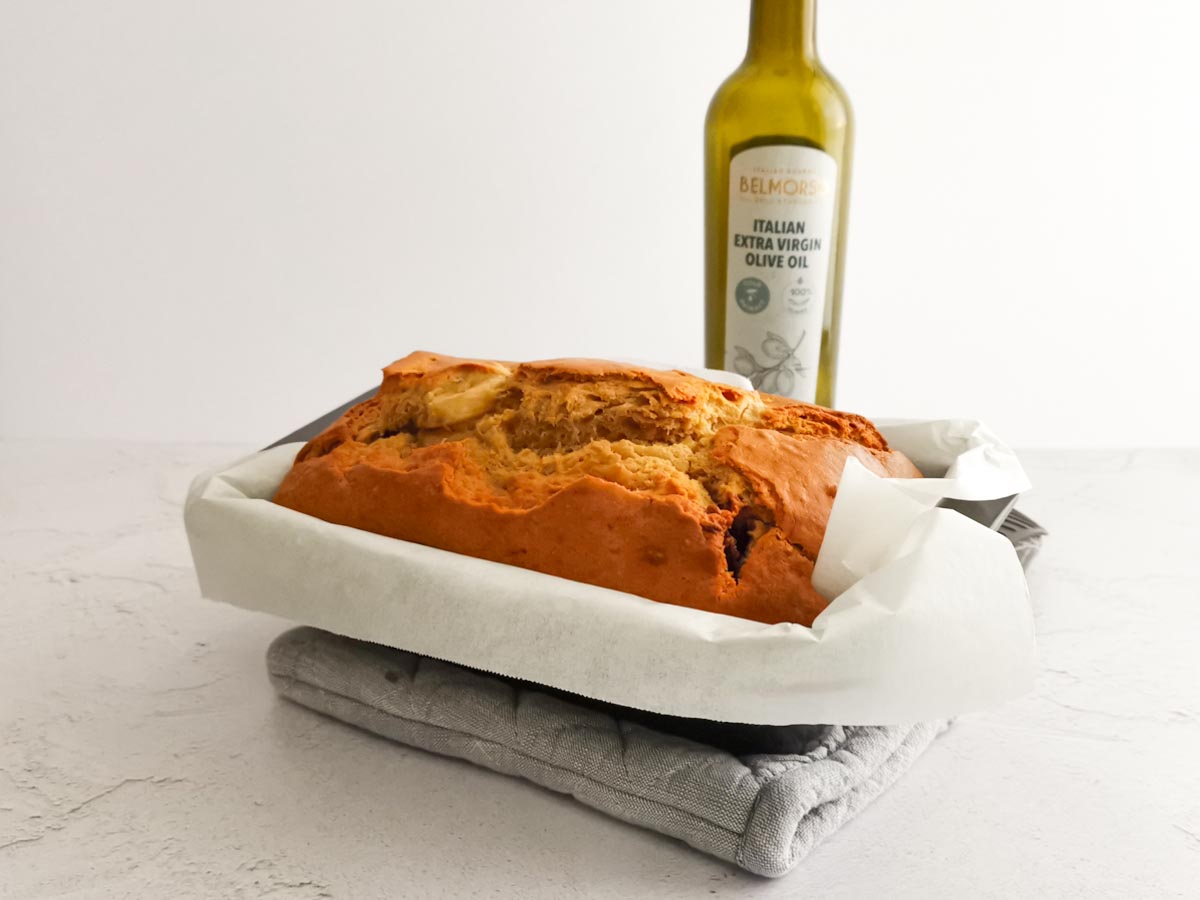 Italian Banana Bread with EVOO
This Italian banana bread recipe was originally published on our other blog https://belmorso.com. It's the perfect Italian breakfast style recipe; it's easy, made in just over an hour, and only includes 10 simple ingredients. Did I mention it has chocolate?
Here's what to expect: a moist banana bread made with just a few high quality ingredients following a simple recipe, just like my Italian grandma would make it. Bite into a sweet but not too sweet soft cake with chunks of gooey banana and chocolate.
Warning: You might end up eating this cake all by yourself, like I did.
Ready to make it and hopefully share it?
Keep reading.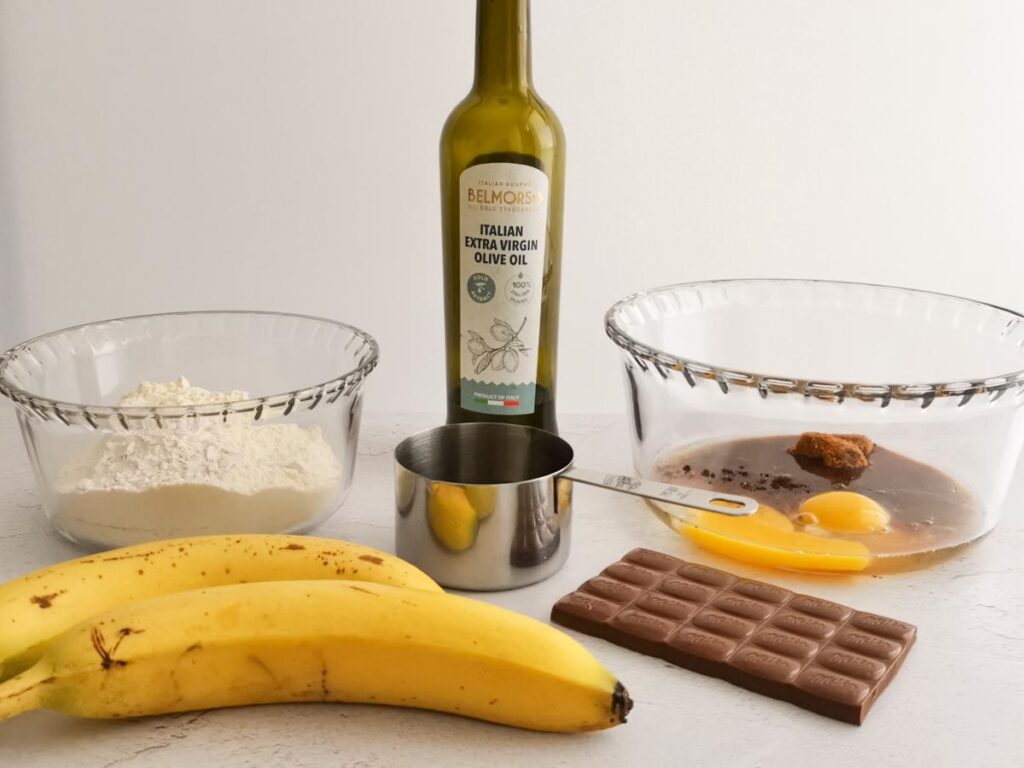 Banana Bread with Extra Virgin Olive Oil
In the South of Italy, we like to bake most of our cakes with extra virgin olive oil rather than butter. That's for 2 reasons:
extra virgin olive oil is considered healthier than butter
EVOO makes a much more moist and soft cake than butter does
What oil should you use to make this bread without butter?
You should use the highest quality extra virgin olive oil available to you. Don't think that because you are baking, you can skimp on quality. If you do, your cake will show it in its taste.
Belmorso EVOO is a great every day cooking oil, that you can also use for baking.
However, if you prefer using only organic ingredients, we suggest this Caroli Organic extra virgin olive oil.
Other Ingredients to Banana Bread
Along with a high quality extra virgin olive oil and some fresh bananas here are the ingredients you'll need to make this easy delicious cake.
High quality flour 00
Fresh eggs
Delicious good quality milk chocolate or dark chocolate if your prefer. You can also try a nut chocolate.
Coconut sugar makes this cake healthier, sweet but not too sweet.
Bourbon vanilla is a staple in my Italian baking
The secret ingredient that I think elevates every cake is lievito vanigliato which is a mix of leavening agents with vanilla essence packed in a small sachet. You normally need to use one sachet per cake. This is a product of Italy that is very popular among Italians. Anyone who bakes uses it.
Don't worry, if you can't find it; I'll give you an alternative to use in a minute.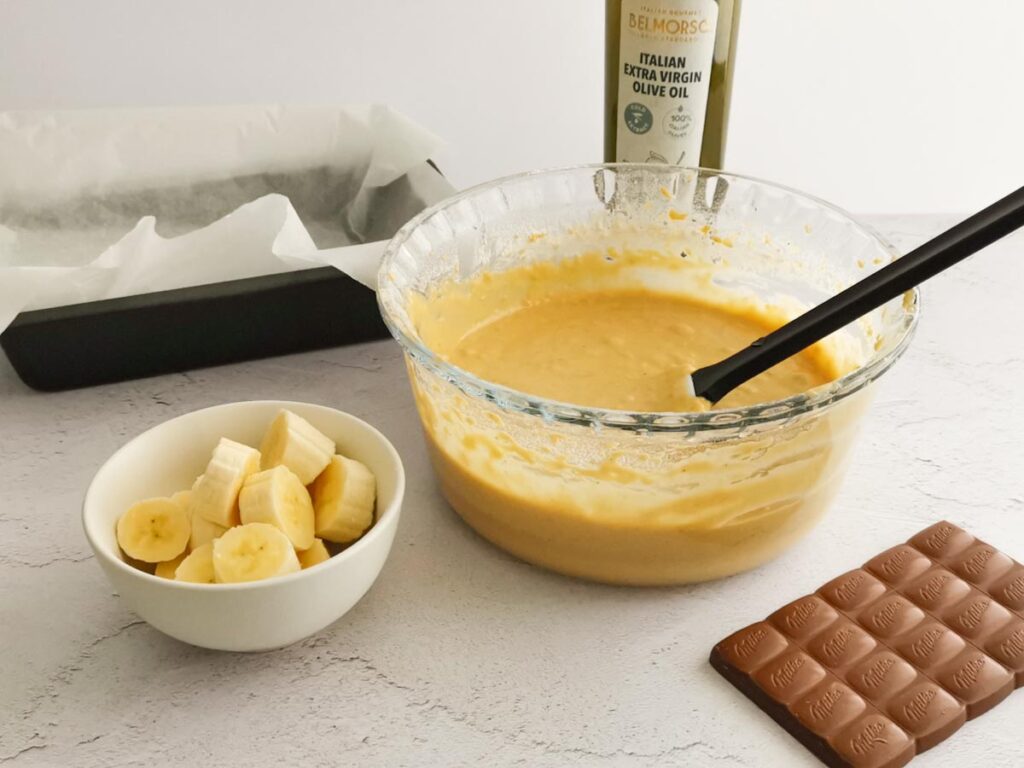 An Easy Recipe for Banana Bread with chocolate
Baking is a delicious, fun and relaxing activity to do on special days, during the weekend or whenever you feel like it. However, we rarely have the whole afternoon or morning to bake a cake. That doesn't mean we can't take an hour and turn it into a delicious cake making hour.
This is exactly what this recipe is about, a quick and easy banana bread recipe, ready in just over an hour.
Below you can find the full recipe, with step by step details of how to make it and which ingredients you need.
Follow along on your screen or print it out.
EQUIPMENT
2 large bowls
1 electric handheld mixer
1 spatula
1 kitchen scale
1 loaf bakeware
baking paper
1 small plate
1 fork or poking stick
INGREDIENTS
250

 

gr

 

flour 00

15

 

gr

 

lievito vanigliato (Replace with 2.5 teaspoons baking powder and 2/3 teaspoon baking soda with a pinch of vanilla bourbon powder).

 

Lievito vanigliato is an Italian staple for baking. Bertolini and Paneangeli are popular brands that make this. If you can't find either, replace with baking powder and baking soda plus some extra vanilla essence.

1/2

 

tsp

 

Bourbon vanilla powder

3

 

bananas

100

 

gr

 

milk chocolate bar

85

 

ml

 

Belmorso extra virgin olive oil

2

 

eggs

50

 

gr

 

coconut sugar

 

or brown sugar

1

 

pinch

 

salt
INSTRUCTIONS
Crack the eggs into a bowl, add the sugar and the vanilla.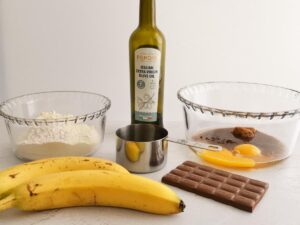 In a separate bowl mix the flour, the salt, the lievito vanigliato or the baking powder + soda + pinch of vanilla.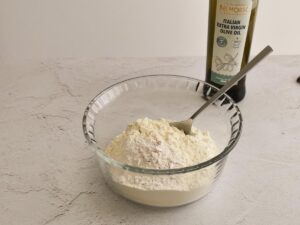 Mash 2 bananas with a fork into a plate.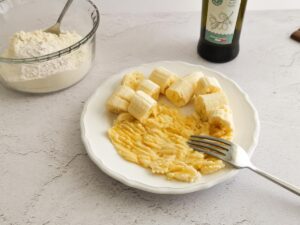 Plug in your handheld electric mixer and start beating the eggs, sugar and vanilla.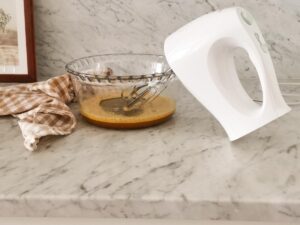 Next, add the extra virgin olive oil and continue beating.
Then add the mashed fruit and continue beating.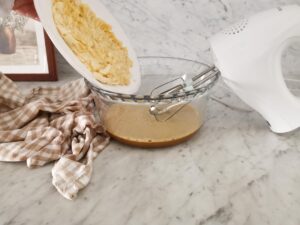 Mix the dry ingredients together using a spoon, add half to the wet ingredients, and continue beating.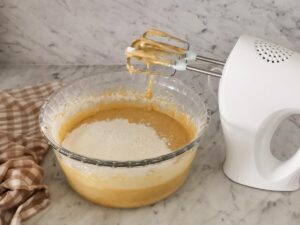 Repeat with the other half of the dry ingredients and beat again.
You can now pour the batter in the cake dish lined with baking paper.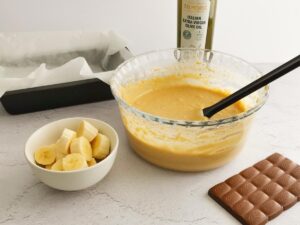 Chop the third banana, and scatter the pieces on top of the cake.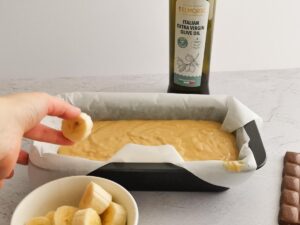 Use a fork or a poking stainless steel baking tool to lower the pieces so they go inside the cake.
Then chop your chocolate bar into one button and two button pieces. You can chop them larger if you prefer. Scatter those throughout the cake batter and use your poking tool or fork to submerge the chocolate pieces into the cake.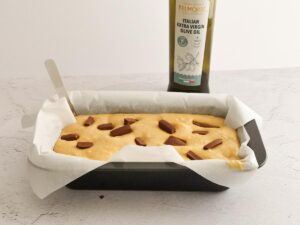 Bake in a preheated oven at 160 degrees Celsius for 50 minutes or until your poking stick comes out clean. It's better to check the cake after 40 minutes. (PS: I like to preheat my oven for 15 minutes at a slightly higher temperature and then lower it when I put the cake in).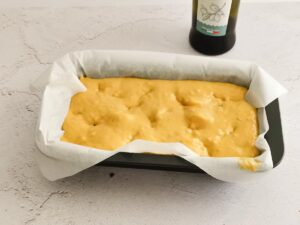 When ready take out of the oven, leave to cool, cut a slice and enjoy.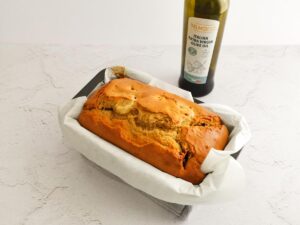 How to serve banana bread?
Like any delicious cake, the best way is to enjoy the first or second slice when the cake is warm, just after few minutes you take it out of the oven.
My favourite way to enjoy it for breakfast is to have a slice with a healthy smoothie.
You could also serve this for dessert with a dollop of Greek yogurt or vanilla ice cream.
And if you are feeling like some crunch, you can add some chopped walnuts after you heat your slice up in the microwave.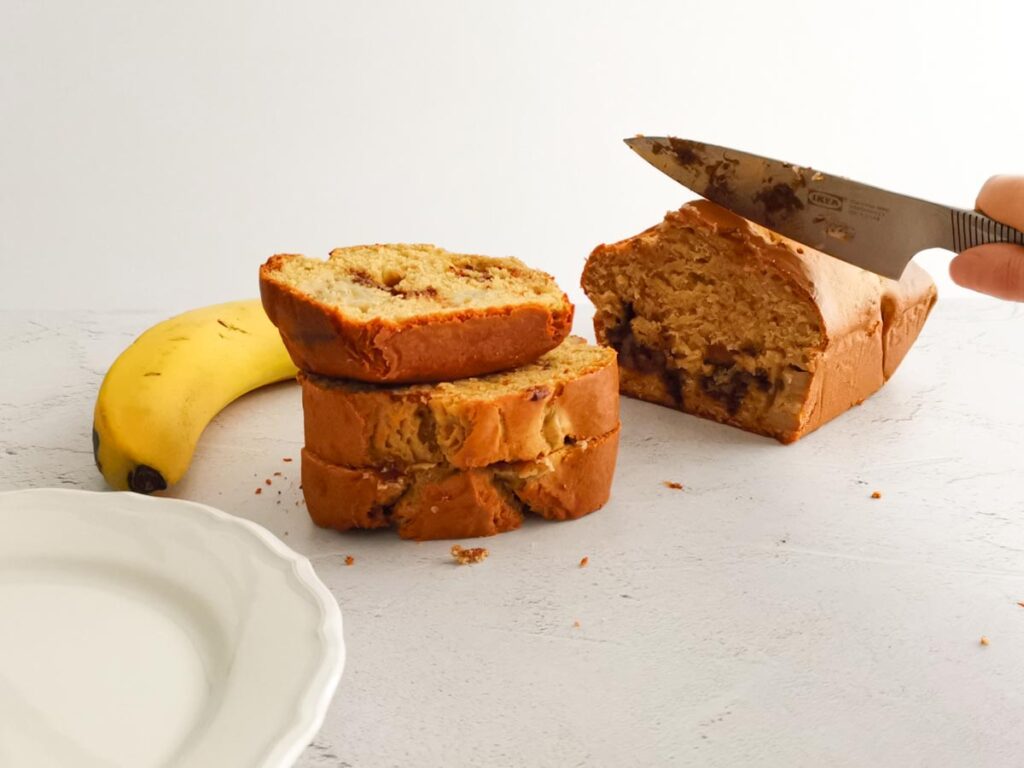 Banana Bread Variations from blueberry to rum
This recipe can be the base for many other ingredients combinations you may want to try. Here are a few suggestions:
This recipe is for a banana bread with 3 bananas but you can easily make into a 2 banana bread recipe by skipping the chopped one at the end.
Blueberry banana bread – simply add a handful fresh blueberries in the batter before pouring it in the dish
Chocolate chips instead of big chocolate chunks – if you'd like your chocolate to be more evenly distributed and not come into big chunks
Walnut recipe – simply add a fee chopped walnuts in the batter at the end and use a spatula to fold them in
Yogurt banana bread – if you like your cake super fluffy, you can also try adding a yogurt but you'll need to adjust the dry ingredients.
A little rum can also add an interesting flavour.
You can also try with a mix of chopped nuts and dry fruit like sultanas, almonds and pinenuts.
Other Italian breakfast cakes to try
If cake is your ideal weekend breakfast of choice, I get it. I really really love homemade cakes for breakfast, after lunch or as a mid-afternoon treat.
Next time, you are craving something sweet and homemade but still relatively healthy, try one of these recipes.
Lemon Cake with EVOO and Mascarpone Frosting