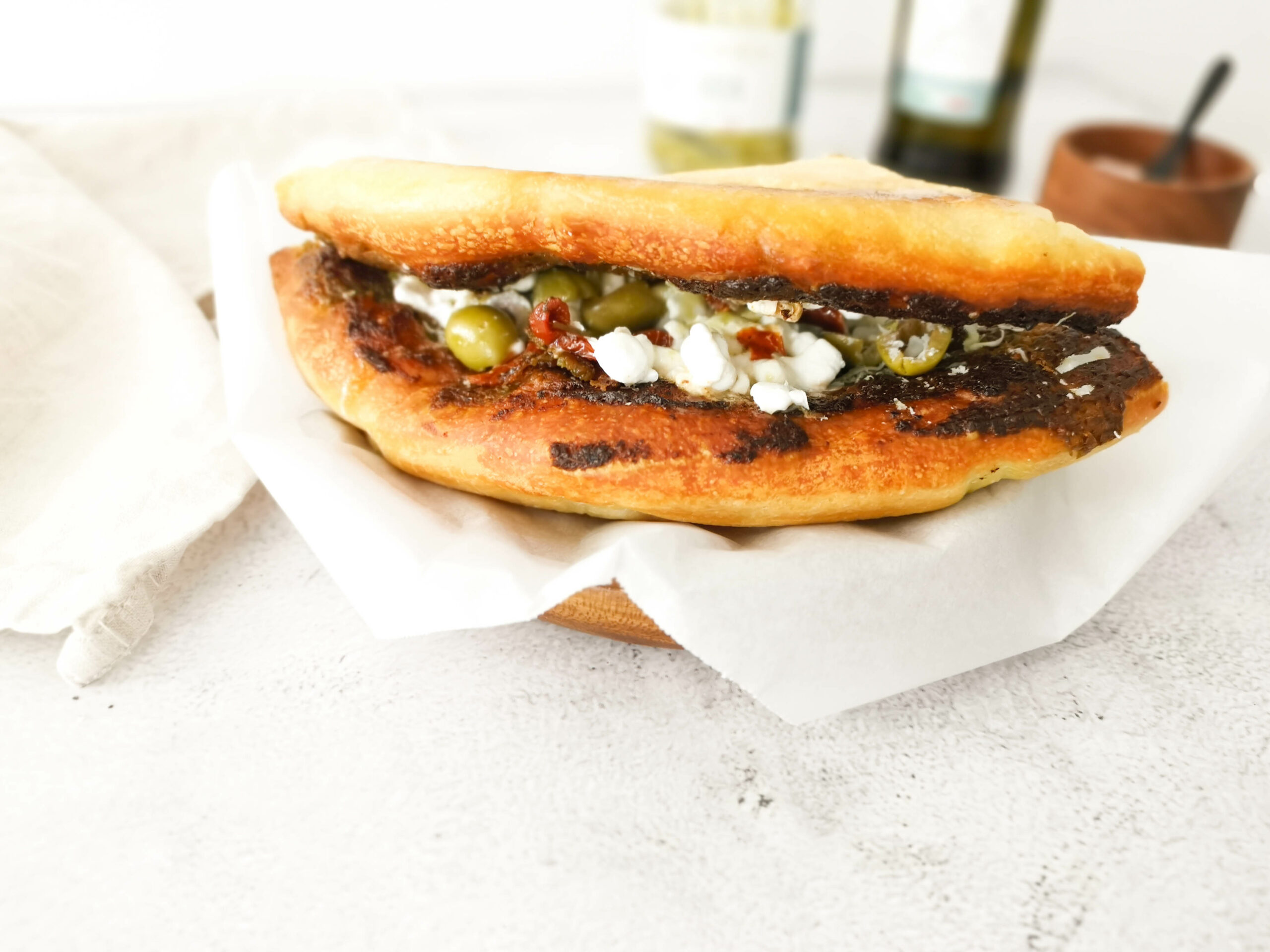 Pesto Pizza al portafoglio
Pesto Pizza al portafoglio
We love pizza, and so we tend to eat it a lot; for this reason it's a good idea to have a few pizza recipes to choose from so that you can still enjoy some variety. Do you agree? Today's pizza recipe is a pesto pizza al portafoglio, one you must try if you love pesto and garlic.
Ingredients (makes one large pizza)
pizza dough, store-bought and preferably round
2 heads garlic or 4 tablespoons of our Garlic Pate'
1 tablespoon butter (only if you opt to make your own garlic pate')
Belmorso basil pesto, 1 small jar
green olives,  about 12 (we are using these pitted termite olives)
sundried tomatoes, about 6
ricotta or cottage cheese, about 180 gr
Belmorso extra virgin olive oil
Preparation
If you are opting to make your own garlic pate', although I suggest you use ours as the result is much better, follow steps 1 to 3; if not, you can start from step 4.
First, place the two garlic heads into two separate pieces of kitchen foil, and roast them in the oven for 45 minutes.
Secondly, once the garlic has been out of the oven for at least 30 minutes (you should open the foil so it cools quickly), squeeze all the garlic cloves into a bowl to get the roasted garlic out.
Thirdly, add one tablespoon melted butter to your squeezed roasted garlic, and mix well.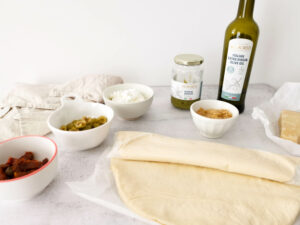 Next, cut your olives into half; then cut your sundried tomatoes into small pieces.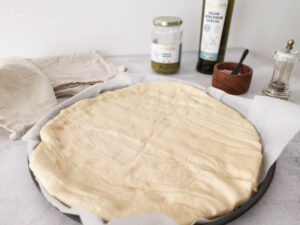 Layer your pizza dough on a dish with some baking paper.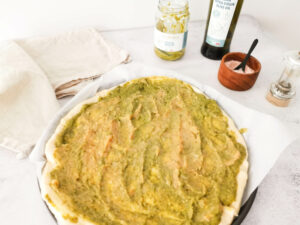 Top the pizza dough with the pesto.
Follow by topping the pizza with 4 tablespoons of our garlic pate' or your homemade one (see steps 1-3).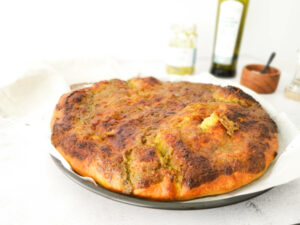 Bake at a lower level of the oven for 20 to 25 minutes. I suggest you watch it while it cooks as ours turned a little more brown than I would have liked. It still tasted delicious though.
Once out of the oven take a fork and a knife and cut the pizza in half.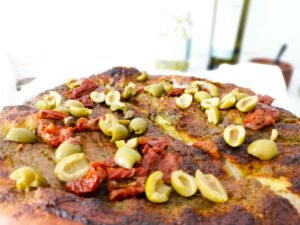 Next, top with the cut olives and sundried tomatoes.
Grate a good amount of parmesan, and top with the ricotta or cottage cheese.
Drizzle some Belmorso extra virgin olive oil, and enjoy.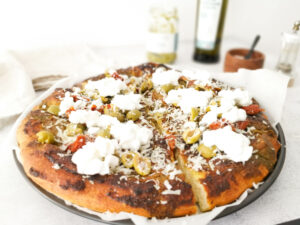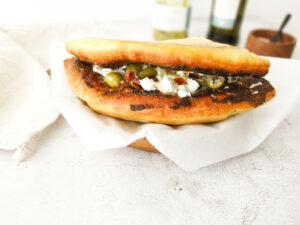 Feel free to fold and enjoy this pizza al portafoglio, which is an Italian street food trend, or eat it like a regular pizza.
Tips
Our pizza dough was a little tick, so not ideal for pizza al portafoglio, especially if your mouth is on the small side. I would suggest you try to buy a thinner pizza dough if you want to eat your pizza al portafoglio, that is cut into half and folded into half. This pizza is vegetarian.