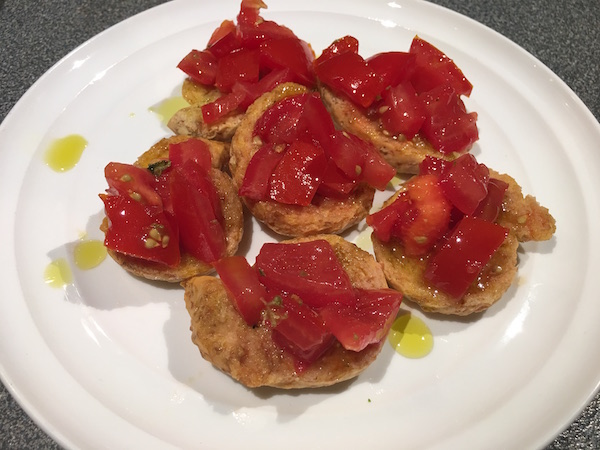 Friselline – Truly Summerly Treat
I grew up eating friselline or frise as starter, as main or as emergency food when I was starving and nothing can be eaten within 5 minutes 😉 This is truly a  summerly treat for me.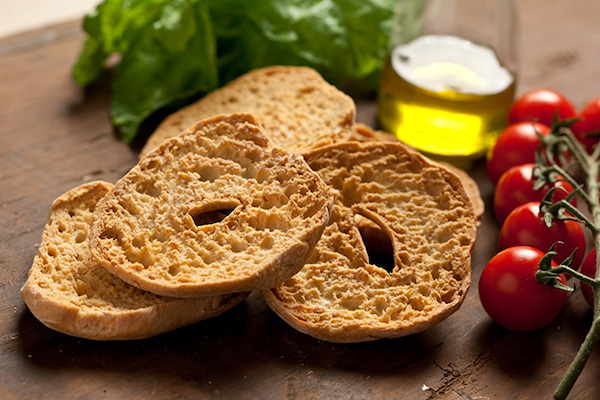 Frise is a big and crunchy dry bread, usually between 10 to 15 cm wide. It's usually made of durum wheat, water, yeast and a little salt. It follows the same recipe as bread and shaped like a donut. Then it is half cooked and cut longitudinally and finished to cook until it gets dry and hard. Traditionally, it needs to be deepened in water before dressing.
The recipe can vary. It can be made from different flours, like 00, barley or brown and can contain other ingredients like olive oil if the baker wants to make it crunchy with no need for soaking.
We have Friselline in our shop, which are a smaller version of the original, between 4 to 6 cm. Usually, they can be eaten in a single bite. They are friable because they're made with olive oil. It's this type of Friselline that we will use in this extremely easy recipe.
Friselline with Tomato and a Variety of Toppings
NOTE: The ingredients may vary according to your supply.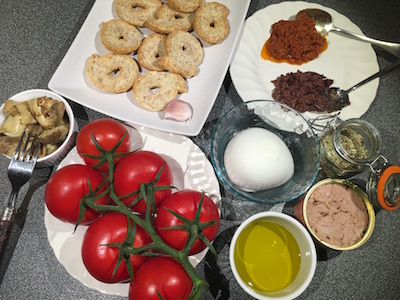 Main ingredients for traditional topping:
Extra virgin Olive Oil
Tomatoes
Garlic
Salt and Oregano
Extra ingredients:
Bufalo mozzarella
Tuna
Sundried tomato and Black olive tapenade
Artichokes
Rucola
Possible ingredients:
Ricotta
Capers
Grilled vegetables like aubergines or courgette
Basil
Chives
Olives
or whatever you like 😉
Procedure:
The easiest way to prepare a frisellina is to drizzle some olive oil on it. Take a cherry tomato, smash it, and put it on top of the frisellina. Add a little salt, oregano and another drizzle of olive oil.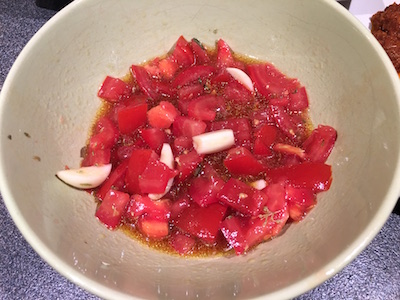 What I did was chop the tomatoes in little cubes and put them in a bowl. I added salt to release the natural juices of the tomatoes, then stirred in olive oil, chopped garlic and oregano. I left it for a few minutes. Then I poured the tomato mix on top of the friselline just before serving.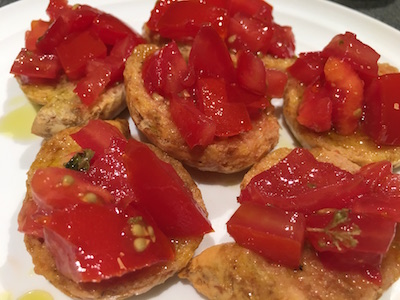 Enjoy making your own frisellina and share your recipe here 😉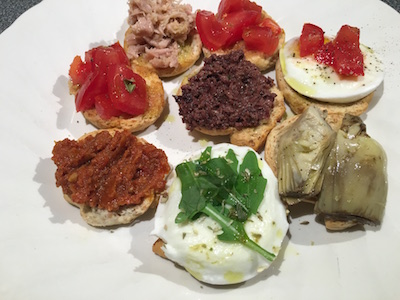 Buon Appetito!