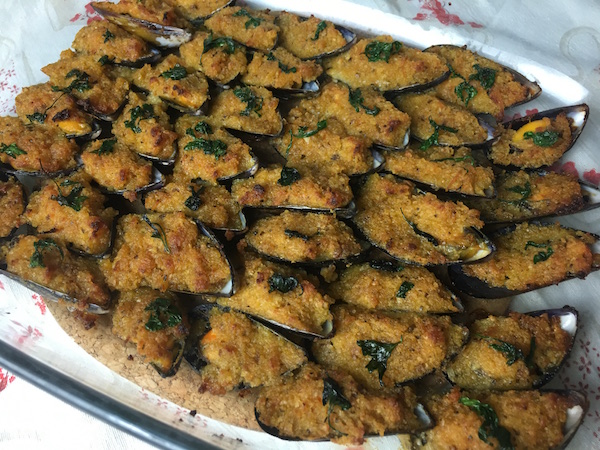 Mussels Gratin with Red Pesto
Shellfish are always appreciated because of their fresh, light and delicate taste. And among the shellfish, mussels are one of the most beloved.
Mussels are a great source of antioxidants, proteins, iron and vitamins C and B; and mineral salts, such as Potassium, Sodium and Zinc, which have a beneficial digestive effect. Moreover, they have very low calories, counting just 86 calories/100grams.
Recently it was found out that mussels can be considered the most important natural anti-inflammatory, due to the their high glucosamine content. This is the reason why they are recommended for people who suffer from rheumatism, arthritis and arthrosis.
Mussels Gratin with Red Pesto
Last night, to celebrate the 15th of August, which is a holiday in Italy, I invited some of my friends in my place and prepared this delicious dish, the Mussels Gratin with Red Pesto!
Ingredients
Preparation
Farm-raised mussels are thankfully quite clean to begin with and don't require the rigorous individual scrubbing-under-water that wild mussels do, but you'll still have to give them a quick once over. Place your mussels in a bowl and run them under cold water. Rinse, rub off and debeard them under the water, as necessary.
Put the mussels in a big pan, and set the medium-high heat, add the wine and cover the pan. Remove from the stove when the shellfish start to open. Eliminate unopened ones.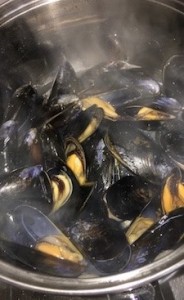 Open the remaining mussels, leaving just the half shell.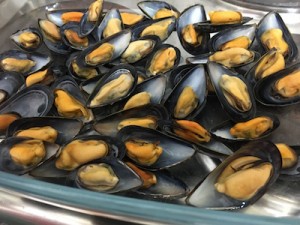 Arrange the mussels in a baking dish. Using a spoon, fill each mussel with this mixture, that you have to prepare in advance: mix the crumble bread with part of the boiling water of the mussels, 3 spoons of Red Pesto, parsley, parmesan, minced garlic, 1/3 of the oil, salt and pepper.

Put in the oven at 200° for 15 minutes. Before serving, spread them with fresh minced parsley and if you have it, Prelibato white balsamic vinegar…. all done!